Poster Session Listing
Physiology: Aging and stress
---
213A
The Caenorhabditis elegans WRN-1 RecQ helicase participates in both DNA damage signaling and DNA Repair. Byungchan Ahn, M. Hyun, S. Park, E. Kim, H. Park.

214B
Amyloid-binding compounds extend lifespan in C. elegans. Silvestre Alavez, Maithili C. Vantipalli, David J. S. Zucker, Ida M. Klang, Gordon J. Lithgow.

215C
The role of the sumoylation pathway in the regulation of protein synthesis during ageing. Artemisia Andreou, Nektarios Tavernarakis.

216A
5' Fluorourdine (FUDR) is protective against stress and aggregation-related disease phenotypes. Suzanne Angeli, David Zucker, Ida Klang, Pedro Rodrigues, Karla Mark, Gordon Lithgow, Julie Andersen.

217B
Why do elevated levels of the SOD-1 cytosolic superoxide dismutase increase C. elegans lifespan? F. Cabreiro, R. Doonan, D. Ackerman, C. Araiz, D. Gems.

218C
A Novel Regulator Linking Insulin/IGF-1 Signaling to Proteasome Activity. O. Matilainen, L. Arpalahti, C. I. Holmberg.

219A
Quorum sensing in Caenorhabditis starvation. Alex Artyukhin, Leon Avery.

220B
Uncovering the mechanisms for the antioxidant-like properties of divalent manganese in Caenorhabditis elegans. Cynthia Bach, Chandra Srinivasan.

221C
Defining healthspan in Caenorhabditis elegans. Ankita Bansal, Kelvin Yen, Heidi A. Tissenbaum.

222A
The impact of longevity controlling genes and stress-inducing environmental factors in the functionality of the ASH chemosensory neuron in aging worms. Daphne Bazopoulou, Trushal V. Chokshi, Nikos Chronis.

223B
Functional studies of Homedomain-Interacting Protein Kinase using C. elegans as a model. S. Berber, E. Llamosas, H. R. Nicholas.

224C
Regulation of the Xenobiotic Stress Response - Combinatorial Action of Nuclear Receptors? Leah Blackwell, Amanda Marra, Tim Lindblom.

225A
Screening of EPA's ToxCast libraries using a C. elegans growth assay. Windy A. Boyd, Majro V. Smith, Julie R. Rice, Jonathan H. Freedman.

226B
The herbal tonic icariin and its metabolites extend C. elegans healthspan via the insulin/IGF-1 pathway. Wai Jiao Cai, Pankaj Kapahi, Xin Min Zhang, Zi Yin Shen.

227C
Young Caenorhabditis elegans Battling Stress: the Role of Ethanol and Enhanced Fat Storage in L1 Lifespan Extension. Paola Castro, Shilpi Khare, Steven Clarke.

228A
The role of the homeodomain protein CEH-23 in longevity of mitochondrial ETC mutants in Caenorhabditis elegans. H. W. Chang, S. S. Lee.

229B
The Checkpoint Protein PCH-2 Regulates Oocyte Quality in C. elegans . Chen-Shan Chen, Ronald Ellis.

230C
Deletion of the ribosomal S6 kinase in daf-2 mutants synergistically extends C. elegans lifespan. Di Chen, Ben Goldstein, Alan Hubbard, Simon Melov, Pankaj Kapahi.

231A
Insulin-like Signaling in Nutritional Control of L1 Development in C. elegans . Yutao Chen, Nicole Kurhanewicz, Ryan Baugh.

232B
A nucleolar protein regulates xenobiotic detoxification genes via skn-1. Keith P. Choe, Hyacinth Empinado, Andrew Deonarine, Chi Leung.

233C
Characterization of TMEM16 Ca2+-activated Cl- channels in C. elegans. Tashrique Alam, Katherine Hill-Harfe, Chi Leung, Ying Wang, Brian Harfe, Keith Choe.

234A
Toxicity of silver nanoparticles via pmk-1 dependant GST and HIF-1 activation in Caenohabditis elegans. Jinhee Choi, DongYoung Lim, Jiyeon Roh, Hyunjeong Eom.

235B
Functional toxicogenomic analysis of multi-wall carbon nanotube in Caenohabditis elegans. Jinhee Choi, Ji-Yeon Roh, Maribel Bruno, Yue Ge.

236C
Role of endocytosis and ER proteostasis in C. elegans longevity. Ritika Das, Sneha Rath, Nam Lee, Lindsay Stolzenburg, Andrew V. Samuelson.

237A
Protein aggregation as an inherent part of aging. D. David, N. Ollikainen, J. Trinidad, M. Cary, A. Burlingame, C. Kenyon.

238B
A model to study drug-induced mitochondrial dysfunction. Richard de Boer, Stanley Brul, Hans van der Spek.

239C
Targeting DNA Repair to Enhance Radiosensitivity in Notch-driven Tumor Stem Cells. X. Deng, D. Rothenstein, D. Michaelson, SN. Powell, Z. Fuks, EJ Hubbard, RN. Kolesnick.

240A
Distinct DAF-12 activities influence C. elegans lifespan. Kathleen Dumas, Chunfang Guo, Hung-Jen Shih, Patrick Hu.

241B
Cyclophilin D Modulation of Longevity and Mitochondrial Physiology. Julie C. Etzler, Deborah Holstein, James D. Lechleiter.

242C
Steroid Signaling Mediates Longevity Responses to Dietary Restriction in C. elegans. Mindy Farris, Victor Pineda, Dhaval Patel, Weiqing Li.

243A
Identification of a Novel Role for Tyrosine Aminotransferase in Insulin Signaling. Annabel Ferguson, Yongsoon Kim, Kaitlyn Kormanik, Patrick Hu, Alfred Fisher.

244B
Engineering longevity in C. elegans. Ari E. Friedland.

245C
Characterization of the neuromedin U receptor (NMUR) family and its role in the development and lifespan of C. elegans. Roxani Gatsi, Bakhtiyor Adilov, Wolfgang Maier, Martin Regenass, Joy Alcedo.

246A
Investigating the Dynamic Role of Autophagy in C. elegans Subjected to Dietary Restriction. S. Gelino, M. Hansen.

247B
Investigating the Effect of Anoxia Exposure on Lifespan and the Role of Age in Anoxia Tolerance in C. elegans. Jo M. Goy, Mary L. Ladage, Pamela A. Padilla.

248C
A Genetic Regulatory Network that Controls the Heat Shock Response in C. elegans. Eric Guisbert, Daniel Czyz, Klaus Richter, Patrick McMullen, Richard Morimoto.

249A
MTL-1, MTL-2 and CDR-1 are not essential in C. elegans resistance to cadmium. Kathryn L. Haas, Julie Hall, Jonathan Freedman.

250B
Identification of a pathway involved in the cadmium-responsive transcriptional regulation of metallothionein expression. Julie Hall, Jonathan Freedman.

251C
Osmotic stress and loss of Notch ligands extend C. elegans lifespan via FOXO and sirtuins. Edward N. Anderson, Mark Corkins, David Sinclair, Anne C. Hart.

252A
EMS Mutagenesis of Early Embryos: Does checkpoint status affect the mutational spectrum? James Barry, Whitney Finstad, Numan Khan, Dean Williams, Phil Hartman.

253B
The KGB-1 JNK signaling pathway negatively regulates FOS-1 transcription factor in stress response. Ayuna Hattori, Tomoaki Mizuno, Naoki Hisamoto, Kunihiro Matsumoto.

254C
A Biochemical Approach for the Identification of new DAF-16 Binding-partners. Thomas W. Heimbucher, Fonslow Bryan, Yates Jonathan, Dillin Andrew.

255A
DAF-12 regulates a connected network of genes to ensure robust developmental decisions. Daniel Hochbaum, Alfred L. Fisher.

256B
The sexual dimorphic response to dietary restriction. Sakiko Honjoh, Yukiko Kajiwara, Eisuke Nishida.

257C
C. elegans vang-1 modulates life span and stress resistance via insulin/IGF-1-like signaling. S. Honnen, C. Büchter, V. Schröder, A. Kampkötter, O. Bossinger.

258A
Investigating the role of C. elegans BRAP-2 in regulation of the oxygen radical detoxification response. Queenie Hu, Janet Koon, Terry J. Kubiseski.

259B
High throughput toxicity screen using C. elegans and propidium iodide. Piper R. Hunt, Nicholas Olejnik, Robert L. Sprando.

260C
CeleST, a sophisticated software package for the simultaneous quantiation of multiple swimming C. elegans for aging and locomotion analysis. C. Ibanez-Ventoso, C. Restiff, S. Guo, D. Metaxas, M. Driscoll.

261A
Intermittent fasting-induced longevity requires cholesterol in C. elegans. Akiko Ihara, Sakiko Honjoh, Masaharu Uno, Hiroyuki Yoshimura, Eisuke Nishida.

262B
Genes involved in mevalonate and ubiquione metabolism are essential for delayed muscle aging. Luv Kashyap, Alfred Fisher.

263C
Characterization of C. elegans mutants deficient in base excision repair genes. Yuichi Kato, Takahito Moriwaki, Atsumi Ikemoto, Kazunari Hashiguchi, Qiu-Mei Zhang-Akiyama.

264A
Telomere lengthening in suppressor mutants of telomerase deficient Caenorhabditis elegans. Chuna Kim, Beomseok Seo, Junho Lee.

265B
Caenorhabditis elegans HIM-6 has a 3'-5' helicase activity and is responsible for DNA damage processing. Eunsun Kim, Moonjung Hyun, Sojin Park, Hyejin Park, Byungchan Ahn.

266C
Delimiting a polymorphic longevity locus on the left arm of Chromosome IV using traditional and high throughput longevity assays. Gunnar Kleemann, Joshua Boom, Leonid Kruglyak, Coleen Murphy.

267A
Identification of mutations that delay reproductive or somatic aging of Caenorhabditis elegans. Sandeep Kumar, Stacie E. Hughes, Cheng Huang, Kerry Kornfeld.

268B
Translational Control of Tumor Formation in C. elegans. Caroline Kumsta, Malene Hansen.

269C
The ESRE stress-response network - analysis of an evolutionary conserved pathway. Aleksandra P. Kuzmanov, David S. Fay.

270A
NAD+ Recycling, Sirtuins, and Stress: A Complex Relationship. Stephanie E. Lange, Wendy Hanna-Rose.

271B
Nucleotide Excision Repair and its regulation in C. elegans development. Andrea E. Karambelas, Daniel Cupac, Özge Z. Aydin, Gert Jansen, Jan H. J. Hoeijmakers, Wim Vermeulen, Hannes Lans.

272C
Autophagy links lipid metabolism to longevity in C. elegans. Louis Lapierre, Sara Gelino, Alicia Meléndez, Malene Hansen.

273A
Identification of glucose-regulatory genes using a genome-wide RNAi screen. Dongyeop Lee, Dae-Eun Jeong, Seung-Jae Lee.

274B
GTP binding protein Nog1 homologue regulates fat storage, development and lifespan. Ho-Hyun Lee, Ju-Yeon Lee, Jeong-Hoon Cho.

275C
AMP-dependent protein kinase regulates nutrition dependent diapause in C. elegans. Inhwan Lee, Young-Jai You.

276A
OASIS, an open-access and user-friendly online application for survival analysis. Jae-Seong Yang, Hyun-Jun Nam, Mihwa Seo, Seong Kyu Han, Yonghwan Choi, Hong Gil Nam, Seung-Jae Lee, Sanguk Kim.

277B
Exploring the function of progeroid WRN gene homologues in C. elegans. Hayley Lees, Lynne Cox, Alison Woollard.

278C
A dominant mutation in xrep-3 encoding the bZIP transcription factor SKN-1 abnormally induces GST expression in Caenorhabditis elegans. Koichi Hasegawa, Chi K. Leung, Keith P. Choe, Johji Miwa.

279A
Homeostatic regulation of the WDR-23/ SKN-1 stress response. Chi K. Leung, Keith P. Choe.

280B
Differential roles of thioredoxin reductases in C. elegans. Weixun Li, Jeong Hoon Cho, Jaya Bandyopadhyay, Sunkyung Lee, Joohong Ahnn.

281C
The affect of chronic hypoxia on developmental trajectory, lifespan, and egg-laying behavior. B. Little.

282A
Lifespan extension with protection against β-Amyloid toxicity with FDA approved drugs discovered in a two species screen. Alex Lublin, Harshil Patel, Isoda Fumiko, Nguyen Linda, Hajje Daher, Swartz Marc, Mobbs Charles.

283B
A large scale small molecule screen identifies a group of structurally related compounds that extend the lifespan of C. elegans. Mark Lucanic, Ivan Yu, Dipa Bhaumk, Jill Graham, Aaron Miller, Robert Hughes, Gordon Lithgow.

284C
High Saturated Fat Diet Disrupts Mitochondrial Function via Reactive Oxygen Species Pathways in C. elegans. Maya Magana, Stephanie Bryner, Lucinda Carnell, Carin Thomas.

285A
The Nuclear Receptor NHR-8 Regulates Sterol Metabolism, Development, and Lifespan in C. elegans. Daniel Magner, Joshua Wollam, Dangling Li, Adam Antebi.

286B
The transcriptional changes associated with food type-dependent lifespan effects. Wolfgang Maier, Roxani Gatsi, Martin Regenass, Joy Alcedo.

287C
A transgenerational effect on lifespan. Frederick G. Mann, Stuart Kim.

288A
INS-18, one of Caenorhabditis elegans insulin-like peptides, is required for the crosstalk of TGF-β signaling with insulin/IGF-I signaling. Y. Matsunaga, K. Gengyo-Ando, S. Mitani, T. Iwasaki, T. Kawano.

289B
Exploring real-time in vivo redox biology in Caenorhabditis elegans . Patricia Back, Winnok De Vos, Filip Matthijssens, Bart Braeckman.

290C
Identification of longevity targets in C. elegans translation mutants. Philip McQuary, Joyce Chu, Malene Hansen.

291A
The role of autophagy in lifespan extension by resveratrol and spermidine. Evgenia Megalou, Nektarios Tavernarakis.

292B
Adaptation to hydrogen sulfide modulates protein homeostasis. Emily Fawcett, Kate Stoll, Dana L. Miller.

293C
The analysis of mismatch repair in C. elegans. Takahito Moriwaki, Yuichi Kato, Satoru Ishikawa, Kazunari Hashiguti, Qiu-Mei Zhang-Akiyama.

294A
C. elegans HSF-1 is a dynamic nuclear protein whose activity is affected by sumoylation in response to proteotoxic stress. Elizabeth Morton, Todd Lamitina.

295B
Unexpected antagonistic pleiotropy in the sod-4 extracellular supreoxide dismutase gene in C. elegans. S. Murakami, H. Murakami, A. Yeh, B. V. Nia, D. Lim.

296C
Clarifying misconceptions about age-related memory impairment (AMI). S. Murakami.

297A
Characterization of cellular functions of UFD-2 and UFD-3, C-terminal adaptors for CDC-48, in C. elegans. Yuki Murayama, Yohei Sasagawa, Teru Ogura, Kunitoshi Yamanaka.

298B
Studies on Toxicity of Nano Iron Employing Model System Caenorhabditis elegans. Supinder Kaur, Shreesh Raj Sammi, Pooja Jadiya, Aamir Nazir.

299C
Dietary Epigenetics and Neurodegenerative Diseases: Effect of Calorie Restriction on Dopaminergic Neurodegeneration in Caenorhabditis elegans. Pooja Jadiya, Shreesh Raj Sammi, Supinder Kaur, Aamir Nazir.

300A
AMPK activation is protective in models of neuron dysfunction and death in Huntington's disease. Rafael Vazquez-manrique, Karine Cambon, Nicolas Offner, Aurélie Darbois, Anne-marie Orfila, Nicole Déglon, Christian Neri.

301B
Neuroprotection by Sirtuin sir-2.1 from Expanded Polyglutamines Requires β-catenin in C. elegans and the Age-at-Onset of Huntington's Disease is Modified by the β-catenin Repressor GSK-3β. J. Alex Parker, Cendrine Tourette, Nicolas Offner, Rafael Vasquez-Manrique, Arnad Mukhopadhyay, Aurelie Darbois, Sophie Menet, Anne-Marie Orfila, Guillaume Dolbeau, Susanne Swenke, Patrick Maison, Michael Orth, Alexis Brice, Alexandra Durr, Anne-Catherine Bachoud-Levi, Heidi Tissenbaum, Christian Neri, European Huntington's Disease Network.

302C
Circadian rhythms in C. elegans. Maria Olmedo, Martha Merrow.

303A
Why Make Fat?: The Impact of de novo Fatty Acid Synthesis on Reproduction and Longevity. Carissa Perez Olsen, Marc R. Van Gilst.

304B
Insulin Signaling and Dietary Restriction Differentially Regulate Glucose Metabolism to Impact C. elegans Healthspan. Brian D. Onken, Monica Driscoll.

305C
The FLH family of transcription factors is epistatic with the insulin/IGF-1 signaling pathway and modulates L1 diapause and stress resistance in C. elegans. Maria Ow, Victor Ambros.

306A
Characterization of exceptional longevity pathways in C. elegans. Jennifer Paek, Stephanie Chan, Xiao Xiao, Jacqueline Lo, Sean P. Curran.

307B
Aluminium Toxicity and Elemental Composition Changes in Caenorhabditis elegans. Kathryn E. Page, David W. Killilea, Keith N. White, Catherine R. McCrohan, Gordon J. Lithgow.

308C
Genetic Analysis of Age-Dependent Defects of C. elegans Touch Receptor Neurons. C.-L. Pan, C.-Y. Peng, C.-H. Chen, Steven L. McIntire.

309A
Detection of DNA Strand Breaks detection in Caenorhabditis elegans using Comet assay. Sojin Park, Moonjung Hyun, Eunsun Kim, Hyejin Park, Byungchan Ahn.

310B
Insulin receptor signaling prolongs lifespan under high glucose conditions by restoring glyoxalase-1 activity. Michael Pfeiffer, Andreas Schlotterer, Youssef Ibrahim, Georgi Kukudov, Thomas Flemming, Angelika Bierhaus, Peter Nawroth, Michael Morcos.

311C
Caenorhabditis elegans APN-1 plays a vital role in maintaining genome stability. Chadi Zakaria, Henok Kassahun, Xiaoming Yang, Jean-Claude Labbé, Hilde Nilsen, Dindial Ramotar.

312A
'Gerontometabolites' Define A Unique Metabolic Signature In Long-Lived Mit Mutants. Jeffrey J. Butler, Shane L. Rea.

313B
Lifespan extension via eIF4G inhibition is mediated by post-transcriptional remodeling of stress response gene expression in C. elegans. Aric N. Rogers, Di Chen, Gregg Czerwieniec, Gawain McColl, Krysta Felkey, Simon Melov, Bradford W. Gibson, Alan Hubbard, Gordon Lithgow, Pankaj Kapahi.

314C
Investigating the spatial and temporal dynamics of protein oxidation in C. elegans. Catalina Romero, Javier Apfeld, Walter Fontana.

315A
Epidermal Growth Factor Signaling Activates The Ubiquitin Proteasome System To Modulate C. elegans Lifespan. Gang Liu, Jason Rogers, Coleen Murphy, Christopher Rongo.

316B
The R148.3 (OcaB) gene controls longevity and fat accumulation in the nematode C. elegans. Catherine Roy-Bellavance, Évelyne Rondeau, Stéphanie Miard, Frédéric Picard.

317C
The effects of nickel toxicity upon survival, growth, and reproduction in nematodes. C. D. Douglas, J. M. Besser, C. G. Ingersoll, D. Rudel.

318A
SKN-1-independent oxidative stress signaling from mitochondria to the nucleus. Eva D. Runkel, Shu Liu, Ralf Baumeister, Ekkehard Schulze.

319B
Understanding the emergence of dynamic response of the reproductive system of Caenorhabditis elegans to chronic heat stress. Patrick D. McMullen, Erin Z. Aprison, Peter Winter, Luis A. Amaral, Richard I. Morimoto, Ilya Ruvinsky.

320C
The recruitment of HSR-9 (53BP1) in response to double-strand DNA breaks requires methylation of histone H4 Lysine 20 in C. elegans. Jinsun Ryu, Sang Jo Kang, Hyeon-Sook Koo.

321A
Deciphering HIF-1 regulatory networks: An interdisciplinary approach to diagnosing stress resistant phenotypes. Jenifer Saldanha, Archana Parashar, Qi Ye, Santosh Pandey, Jo Anne Powell-Coffman.

322B
Insulin signaling pathway genes facilitating thermotolerance and protein homeostasis. Sara Farrell, Lindsay Stolzenburg, Jesse Llop, David Johnson, Andrew V. Samuelson.

323C
Caenorhabditis elegans NDX-1has an 8-oxo-7, 8-dihydrodeoxyguanosine 5'-diphosphate pyrophosphatase activity that contributes to prevent against oxidative stress. U. Sanada, Qiu-Mei Zhang-Akiyama.

324A
Gene by environment interaction reveals proteostasis sub network for adult health and longevity. A. R. Sanchez, S. Takano, P. L. Larsen.

325B
Variable Pathogenicity Determines Individual Lifespan in C. elegans. Adolfo Sanchez-Blanco, Stuart Kim.

326C
MicroRNA Modulation of C. elegans aging. Mitalie Shah, Mehul Vora, Monica Driscoll.

327A
Regulation of Autophagy by RNF-5, an E3 Ubiquitin Ligase. S. Sheffy Levin, L. Broday.

328B
Monascus-fermented dioscorea enhances oxidative stress resistance via insulin signaling pathway. Yeu Ching Shi, Tzu-Ming Pan, Vivian Liao.

329C
The C. elegans WRN-2 having the exonuclease domain of Werner syndrome protein is required for efficient cell cycle arrest in response to ionizing radiation. Hyo ju Shin, Se jin Lee, Hyeon-Sook Koo.

330A
The DAF-2 somatic longevity pathway interfaces with PRG-1-mediated germ cell immortality. Matt A. Simon, Eric Miska, Shawn Ahmed.

331B
Non-monotonic relationship between tissue levels of 4-hydroxynonenal (4-HNE) and lifespan in C. elegans. Kevin E. McElhanon, Kira C. Bennett, Ludwika Zimniak, Piotr Zimniak, Sharda P. Singh.

332C
The role of ubiquitin-conjugating enzymes in polyglutamine protein aggregation. Gregory A. Skibinski, Lynn Boyd.

333A
Modeling membrane protein misfolding in C. elegans. Liping He, Jennifer Skirkanich, Lorenza Moronetti, Todd Lamitina.

334B
The Lifespan Machine comes of age: Time-dependent changes in the action of insulin signaling are revealed by high-resolution mortality data. Nicholas Stroustrup, Javier Apfeld, Walter Fontana.

335C
Identification of DNA maintenance genes specifying the extended longevity of the Mit mutants. Alessandro Torgovnick, Alfonso Schiavi, Roberto Testi, Shane Rea, Natascia Ventura.

336A
Studies towards understanding the function of the transcription factor DAF-16. Jennifer M. A. Tullet, Caroline Araiz, Eugene Schuster, David Gems.

337B
The mechanisms underlying an age-dependent reversal in the protective capacities of the non-neuronal JNK-homolog KGB-1. Kwame Twumasi-Boateng, Tim Wang, Linda Tsai, Lianqun Wu, Michael Shapira.

338C
A conserved JNK/AP-1 module is a key mediator of intermittent fasting-induced longevity in C. elegans. Masaharu Uno, Sakiko Honjoh, Eisuke Nishida.

339A
A genome-wide RNAi screen identifies alternative pathways for activating phase 2 detoxification gene expression in response to arsenite. Helen M. Crook, Monika Oláhová, Elizabeth A. Veal.

340B
Electron transport chain disruption extends lifespan and reduces fat accumulation through p53-dependent induction of autophagy. A. Schiavi, A. Torgovnick, E. V. Megalou, R. Testi, N. Tavernarakis, N. Ventura.

341C
Reproductive Aging in C. elegans Males. I. Chatterjee, P. Vijay, C. Ibanez-Ventoso, J. Bair, M. Driscoll, A. Singson.

342A
Investigating the function of NAD+ salvage biosynthesis in energy production and storage. Wenqing Wang, Kelsey J. Krebs, Marisa J. Pacella, Wendy Hanna-Rose.

343B
The effects of altered omega-3 fatty acid composition on lifespan and stress. Joel Greggain, Christopher Webster, Jennifer Watts.

344C
Regulation of oocyte quality by the level of germ cell death. Qing Wei, Sara Andux, Ronald Ellis.

345A
Identifying natural genetic variation in stress and aging pathways in Caenorhabditis remanei populations. John H. Willis, Patrick Phillips.

346B
A GATA transcriptional circuit guides aging in C. elegans. Xiao Xu, Stuart Kim.

347C
Identification of molecular compensation system of sod-genes expression in nematode C. elegans. Koumei Yazaki, Sumino Yanase, Taro Sakamoto, Yasuhito Nakagawa, Naoaki Ishii.

348A
A Mitochondrial Superoxide Signal Triggers Increased Longevity in C. elegans. Wen Yang, Siegfried Hekimi.

349B
Nuclear Envelope Proteins: Regulation of Meiotic Recombination and Role in Reproductive Aging. Alice Y. Ye, Needhi Bhalla.

350C
Dissecting the interaction between insulin/IGF-1 and TOR signaling pathways. Kelvin Yen, Heidi Tissenbaum.

351A
Deciphering mechanisms by which EGF signaling protects against the aging process. Simon Yu, Hiroaki Iwasa, Jian Xue, Monica Driscoll.

352B
The role of GATA transcription factors elt-5 and elt-6 in aging. Stephanie M. Zimmerman, Yelena V. Budovskaya, Stuart K. Kim.


Physiology: Dauer larvae and metabolism
---
353C
Small molecule modulators of dauer signaling pathways and life span. Ben Becker, Adam Antebi.

354A
CYP-35A5 and NHR-88 act together to coordinate brood size. Alison Brooks, Marc Van Gilst.

355B
Role of G-protein coupled receptor signaling in C. elegans fat metabolism. Claudio Comunian, Tallie Noble, Supriya Srinivasan.

356C
Do Dauers differ ? - Comparative analysis of Dauer proteome and metabolome signatures in three nematode species. Zisong Chang, Guido Mastrobuoni, Hans-Joachim Knölker, Stefan Kempa, Christoph Dieterich.

357A
Functions of Acyl-CoA Binding Proteins in C. elegans. Ida C. Elle, Pernille K. Birck, Thuc T. Le, Nils J. Faergeman.

358B
Defining the role of ABC transporters in vitamin B12 metabolism using the model organism Caenorhabditis elegans. Julie-Anne Fritz, Megan McDonald, Padmaja Dharwadkar, Deborah Scheuchner, Floyd Snyder, Avalyn Lewis, Liang Li, Roy Gravel.

359C
Prostaglandin signaling in dauer formation and aging. Makoto Horikawa, Adam Antebi.

360A
GPCR signaling in free-living and parasitic nematode models: the cholecystokinin story. T. Janssen, L. Peeters, I. Beets, L. Temmerman, E. Meelkop, N. Suetens, W. Grant, L. Schoofs.

361B
ENPL-1/GRP94 interacts with ASNA-1 and promotes Insulin/IGF secretion in Caenorhabditis elegans. Balasubramanian Natarajan, Peter Naredi, Gautam Kao.

362C
Data mining of global interactome studies yields new modulators of C.elegans insulin signaling. Ola Billing, Balasubramanian Natarajan, Ateequr Rahman Mohammed, Peter Naredi, Gautam Kao.

363A
Neuronal secretion of C. elegans DAF-28/insulin requires functional mitochondria. Ola Billing, Peter Naredi, Gautam Kao.

364B
HRG-9 regulates systemic heme homeostasis in C. elegans. T. Korolnek, I. Hamza.

365C
Y47D7A.16: a riboflavin tranporter in C. elegans and homolog of human Riboflavin Transporter 2. Craig W. Lamunyon, Arundhati Biswas, Jason Rothman, Hamid Said.

366A
DHS-21, a dicarbonyl/L-xylulose dehydrogenase (DCXR) ortholog, regulates longevity and reproduction in C. elegans. Son T. Le, Tae-Woo Choi, Gunasekaran Singaravelu, Sun-Kyung Lee, Joohong Ahnn.

367B
Regulation of insulin and neuropeptide signaling by the Bardet-Biedl Syndrome complex. Brian H. Lee, Kaveh Ashrafi.

368C
Dafadine Promotes Dauer-Formation and Lifespan-Extension of C. elegans by Inhibiting the Cytochrome P450 DAF-9. Genna M. Luciani, Lilia Magomedova, Rachel Puckrin, Malene L. Urbanus, Iain M. Wallace, Guri Giaever, Corey Nislow, Carolyn L. Cummins, Peter J. Roy.

369A
Local triglyceride synthesis by DGAT-2 promotes lipid droplet expansion. Ningyi Xu, Shaobing Zhang, Ronald Cole, Sean McKinney, Fengli Guo, HoYi Mak.

370B
Role of lipid signaling molecules in energy balance in C. elegans. Thomas P. Mathews, Tallie Noble, Benjamin F. Cravatt, Supriya Srinivasan.

371C
Histidine Protects Against Zinc and Nickel Toxicity in C. elegans. John T. Murphy, Janelle J. Bruinsma, Daniel L. Schneider, Sara Collier, James Guthrie, Asif Chinwalla, J. David Robertson, Elaine R. Mardis, Kerry Kornfeld.

372A
Starvation-signalling in gpb-2. Robert H. Pollok, Chanhee Kang, Leon Avery.

373B
Knockout of the folate tranporter folt-1 induces sterility and metabolic defects that are alleviated by supplementation with other B vitamins. Jason A. Rothman, Craig LaMunyon.

374C
The role of rsks-1 in regulation of fat metabolism. Ming Sheng, Josefin Nyström-Friberg, Staffan Lundstedt, Simon Tuck.

375A
Determining the role of heterotrimeric G proteins in dauer entry. Julien Shoenfeld, Bryan Danzi, Edith Myers.

376B
Glycogen debranching enzyme AGL-1 regulates embryogenesis and lifespan through AMP Kinase dependent and independent pathways. Jeffrey S. Simske.

377C
S-adenosylmethionine synthetase SAMS-1 regulates brood size in C. elegans. Hiroko Tamiya, Keiko Hirota, Yuta Takahashi, Hiroaki Daitoku, Naoaki Ishii, Akiyoshi Fukamizu.

378A
Genetic Regulation of Starvation Induced Adult Reproductive Diapause (ARD). Bargavi Thyagarajan, Giana Angelo, Marc Van Gilst.

379B
Increasing C. elegans lifespan by inhibiting E. coli folate metabolism, but not E. coli proliferation. Bhupinder Virk, David Dixon, David Weinkove.

380C
PNC-1 regulation NAD+ synthesis but not absolute NAD+ levels promotes muscle development and function in C. elegans. Tracy L. Vrablik, Wenqing Wang, Wendy Hanna-Rose.

381A
Purification and characterization of C. elegans cytoplasmic malate dehydrogenase. Wei Gu, Penelope L. Lindsay, Justin W. Spengler, Katherine M. Walstrom.

382B
Rationing of Energy Stores in C. elegans during Dauer Stage. Meng Xie, Richard Roy.

383C
Suppressors of daf-18 L1 arrest phenotype and investigating a role for DAF-18 protein phosphatase activity. Michael R. Zanetti, Peter E. Hand, Ian D. Chin-Sang.


Physiology: Pathogenesis
---
384A
Indolequinazoline Alkaloids Evodiamine and Rutaecarpine Suppress Multivulva of an Activating Ras Mutant. Kosuke Amagasa, Kahori Asano, Yusuke Morioka, Asuka Kambe, Hideshi Inoue.

385B
Role of FSHR-1 targets in regulating the Caenorhabditis elegans innate immune response. Hannah L. Anthony, Jonathan D. Hibshman, Jennifer R. Powell.

386C
O-GlcNAc cycling is a regulator of innate immunity in Caenorhabditis elegans. Michelle R. Bond, Michael W. Krause, John A. Hanover.

387A
Comparative Metabolite Profiling Identifies Toxic Phenazines Produced by Pseudomonas aeruginosa. Brent Cezairliyan, Nawaporn Vinayavekhin, Daniel Grenfell-Lee, Grace Yuen, Alan Saghatelian, Frederick Ausubel.

388B
Characterization of the pathogenicity of Enterohaemorrhagic E. coli in C. elegans. Ting-Chen Chou, Cheng-Ju Kuo, Hao-Chieh Chiu, Ching-Ming Wu, Chang-Shi Chen.

389C
SIR-2.3 is involved in Cry5B pore-forming toxin defense in C. elegans. Huan-Da Chen, Cheng-Yuan Kao, Raffi V. Aroian, Chang-Shi Chen.

390A
Characterization of the Intestinal Autophagy Response Against Vibrio cholerae hemolysin. Hediye N. Cinar, Surasri N. Sahu, Oluwakemi Odusami.

391B
Testing the "glycine zipper" model for the formation of toxic β-amyloid oligomers. Vishantie Dostal, Gin Fonte, Christine M. Roberts, Patrick Gonzales, Christopher D. Linlk.

392C
Characterization of Viruses that infect Caenorhabditis Nematodes. Carl J. Franz, Yanfang Jiang, Guang Wu, Tony Belicard, Marie-Anne Felix, David Wang.

393A
Muscle degeneration: a protein misfolding problem? April R. Reedy, Angela Rea-Boutrios, Maité Carre-Pierrat, Laurent Segalat, Kathrin Gieseler.

394B
Mitochondrial Fission Protects C. elegans from Amyloid-Beta Toxicity. Patrick K. Gonzales, Christopher D. Link.

395C
Molecular characterization and suppression of srf-2, a DUF23 surface-antigenicity gene that affects bacterial infection. Maria J. Gravato-Nobre, Simon Spiro, Tom Baker, Dave Stroud, Jonathan Hodgkin.

396A
Host seeking and the evolution of olfactory behavior in parasitic nematodes. Elissa A. Hallem, Adler R. Dillman, Manon L. Guillermin, Paul W. Sternberg.

397B
Manganese-transporters have an important roles in innate immune system in Caenorhabditis elegans. Hwan-Jin Kim, Ju-Yeon Lee, Joeng-Hoon Cho.

398C
A novel, high-throughput, liquid killing assay of P. aeruginosa infection of C. elegans provides insight about pathogenesis and host defense. Natalia V. Kirienko, Jonah Larkins-Ford, Carolina Wählby, Frederick M. Ausubel.

399A
Screening of natural products as anti-infectives towards Staphylococcus aureus using an in vivo Caenorhabditis elegans infection model. Cin Kong, Man-Wah Tan, Sheila Nathan.

400B
Genetic analysis of Caenorhabditis elegans responses to grassland soil bacteria reveals both specific and general functions. Vinod Kurumathurmadam Mony, Michael Herman.

401C
Identifying host factors required for Sindbis virus replication using C. elegans. Michael Laha, Hugo Decker, Ellen Bradley, Charles Rice, Margaret MacDonald, Shai Shaham.

402A
Innate immune response to microsporidian infection. Amy T. Ma, Emily R. Troemel.

403B
Identifying P. aeruginosa factors that activate C. elegans immunity. Deborah L. McEwan, Frederick M. Ausubel.

404C
Protective role of dnj-27, a thioredoxin family member, on C. elegans models of Alzheimer's and Parkinson's Diseases. F. Munoz-Lobato, CD Link, S. Hamamichi, KA Caldwell, GA Caldwell, A. Miranda-Vizuete.

405A
Genetic architecture of natural variation in Caenorhabditis elegans pathogen avoidance. R. Nakad, B. Snoek, S. Ellendt, T. G. Mohr, K. Dierking, J. E. Kammenga, H. Schulenburg.

406B
Morphological Study of Muscle Degeneration in C.elegans. Nicolas Brouilly, Claire Lecroisey, Laura Pierson, Kathrin Gieseler.

407C
Mutations in bus-10, encoding a putative membrane protein, alter both susceptibility and resistance to different bacterial infections. Delia M. O'Rourke, Rebecca Price, Nicholas Lillios, Maria Gravato-Nobre, Jonathan Hodgkin.

408A
Regulation of PMK-1 p38 MAPK-dependent immunity by the transcription factor ATF-7 in C. elegans. Daniel J. Pagano, Dennis H. Kim.

409B
Genomic Analysis of Immune Response Against Vibrio cholerae Hemolysin in Caenorhabditis elegans . Surasri Sahu, Jada Lewis, Isha Patel, Serdar Bozdag, Joseph LeClerc, Hediye Cinar.

410C
A Feeding RNAi Screen to identify novel genes in anti-viral immunity in C. elegans. Shruthi Satish, Zhihuan Gao, Stephanie Coffman, YuanYuan Guo, Michael Cantrell, Gina Broitman-Maduro, Morris Maduro, Shou-wei Ding.

411A
Characterization of pathogenesis of S. aureus and involvement of checkpoint response in C. elegans. Lone V. Scholer, Steffen Noerregaard, Frederik D. Hansen, Kurt Fuursted, Anders Olsen.

412B
Towards a SNP map for Heterorhabditis bacteriophora. Hillel Schwartz, Paul Sternberg.

413C
LIN-7 PDZ Modulates DAF-2-mediated Innate Immunity Signaling and Infection Sensitivity in Caenorhabditis elegans. Xiao-Hui Sem, Jason Kreisberg, Mikael Rhen, Patrick Tan.

414A
Key residues of Cry5B structure and function: mutagenesis by alanine screening. Jillian Sesar, Yan Hu, Raffi V. Aroian.

415B
Caenorhabidits elegans commensals provide protection from P. aeruginosa infection. Sirena Montalvo-Katz, Oliver Huang, Susannah Tringe, Michael Shapira.

416C
Fat Burning in Sleeping Worms: Regulation of Multiple Signaling Pathways by Kruppel Like Factors. Shahid S. Siddiqui, Sarwar Hashmi, Jun Zhang, Chen Yang, Immanuel Dhansingh, David Gozal.

417A
Microarray analysis of pathogen response in C. elegans and P. pacificus reveals differences in molecular effectors of innate immunity. Amit Sinha, Igor Iatsenko, Robbie Rae, Ralf J. Sommer.

418B
Expression patterns of an FSHR-1 transcriptional target gene upon infection of C. elegans by P. aeruginosa. Jordann A. Smak, Jennifer R. Powell.

419C
Responses of C. elegans to Pathogenic Challenge. Gregory Stupp, Steven L. Robinette, Ramadan Ajredini, Paul A. Gulig, Arthur S. Edison.

420A
Molecular characterization of Coprinopsis cinerea lectins-mediated toxicity against C. elegans. Katrin Stutz, Alex Butschi, Silvia Bleuler-Martinez, Mario Schubert, Markus Aebi, Markus Künzler, Michael O. Hengartner.

421B
A C. elegans model for cell autonomous, non-autonomous, and delayed hypoxic injury. Chun-Ling Sun, C. Michael Crowder.

422C
G-protein coupled receptor OCTR-1 controls innate immunity by regulating non-canonical unfolded protein response genes. Jingru Sun, Varsha Singh, Rie Kajino-Sakamoto, Alejandro Aballay.

423A
A Calpain based muscle repair/remodelling system in C. elegans. Beth Oczypok, Tim Etheridge, Brandon Fields, Lew Jacobson, Nate Szewczyk.

424B
Understanding the effects of the intracellular pathogen Nematocida parisii infection of the C. elegans intestine on intracellular trafficking and cytoskeleton components. Suzy Szumowski, Emily Troemel.

425C
C. elegans clhm-1 encodes a novel voltage-gated, Ca2+ permeable ion channel that regulates cell excitability. Jessica E. Tanis, Zhongming Ma, Predrag Krajacic, Liping He, J. Kevin Foskett, Todd Lamitina.

426A
Non-lytic, actin-based exit of intracellular parasites from C. elegans intestinal cells. Kathleen A. Estes, Emily R. Troemel.

427B
Development of C. elegans models for Amyotrophic Lateral Sclerosis. Alexandra Vaccaro, Arnaud Tauffenberger, Alex Parker.

428C
The interaction between C. elegans and the emerging nosocomial pathogen Stenotrophomonas maltophilia. Corin White, Vinod Mony, Brian Darby, Michael Herman.

429A
Enterococcus infection of Caenorhabditis elegans as a model of innate immunity. Grace J. Yuen, Read Pukkila-Worley, Frederick M. Ausubel.

430B
Dissecting the molecular pathway underlying IFT modeling. Qing Zhang, Yuxia Zhang, Qing Wei, Jinghua Hu.


Neurobiology: Neuronal development
---
431C
The Role of the Argonaute Protein, ALG-1, in C. elegans Neural Development. Cristina Aguirre-Chen, Christopher M. Hammell.

432A
The atypical Cdc-42-like GTPases CHW-1 and CRP-1 redundantly regulate axon pathfinding and cell migration. Jamie K. Alan, Erik A. Lundquist.

433B
Dissections of lin-11 neuronal enhancers in C. elegans and C. briggsae. Siavash Amon, Bhagwati Gupta.

434C
Rapid and reversible arborization of IL2 neurons during dauer development. Nathan E. Schroeder, Rebecca J. Androwski, Maureen M. Barr.

435A
To branch or not to branch? Role of png-1 in limiting axon branching in C.elegans. Nasrin Babadi, Claudia Arauz, Anna Su, Antonio Colavita.

436B
Cholinergic motor neurons are required for the positioning of GABA receptor clusters at the neuromuscular junction. Belinda Barbagallo, Michael Francis.

437C
An Investigation into the Affect of Neuronal Activity on Proper Neural Connectivity in C. elegans. Ben Barsi-Rhyne, Kristine Miller, Joori Park, Emma Holdrich, Miri VanHoven.

438A
Investigation of the UNC-6/Netrin and UNC-40/DCC-Mediated Synaptic Partner Recognition Pathway in C. elegans. Kelli L. Benedetti, Aruna Varshney, Akshi Goyal, Dianicha Santana-Nuńez, Pooja Prasad, Joori Park, Miri VanHoven.

439B
A Family of Eight Small 2-Ig Domain Proteins Functions to Protect Neuronal Architecture. Cassandra Blanchette, Claire Bénard.

440C
A prkl-1suppressor screen to identify new planar cell polarity components involved in neuronal polarity. D. Carr, J. Visanuvimol, L. Sanchez-Alvarez, A. Colavita.

441A
Loss of the soluble guanylate kinase guk-1 results in multiple developmental defects. Margaret R. Casazza, Douglas Portman.

442B
Integrin Cooperates with UNC-40 to Guide Muscle Arm Extension. Kevin K. Chan, Peter J. Roy.

443C
UNC-119 acts to maintain neuronal differentiation. Brittney Chilton, Andrew Gorzalski, Fern Bosada, Scott Clark.

444A
An F-box protein FSN-1 Regulates Retrograde Insulin Signalling. Wesley Hung, Christine Hwang, Edward Liao, Jyothsna Chitturi, Ying Wang, Hang Li, Mei Zhen.

445B
Sex pheromone perception in C. elegans is under the regulation of TGFβ and IGF signals acting in the nervous system. KC Fan, KL Chow.

446C
DAF-18/PTEN regulates neurodevelopmental axon outgrowth through isoform-specific DAF-16/FOXO activity. R. Christensen, A. Byrne, M. Hammarlund, D. A. Colón-Ramos.

447A
A screen for mutants with defective hypodermal attachment of mechanosensory neurons. Brian Coblitz, Martin Chalfie.

448B
Mechanisms of BAG sensory cilia specification. Astrid Cornils, Piali Sengupta.

449C
The LAMMER kinase MADD-3 Functions Cell-Autonomously to Direct Muscle Arm Extension. Serena A. D'Souza, Louis Barbier, Rachel Puckrin, Peter Roy.

450A
Regulation of axon extension and termination by RPM-1. Maria Fernanda daSilva, Scott Clark.

451B
Identification of novel loci interacting with the Kallmann Syndrome gene kal-1. Carlos A. Diaz-Balzac, Nathali Gomez, Hannes Buelow.

452C
Syndecan modulates growth cone migration and morphology during axon regeneration. Tyson Edwards, Marc Hammarlund.

453A
COEL-1, a metazoan specific protein, is required for proper function of microtubules in Touch Receptor Neurons. M. Y. Frederic, V. F. Lundin, M. D. Whiteside, D. K. Tu, D. L. Baillie, J.-M. Bellanger, H. Hutter, F. S. Brinkman, M. R. Leroux.

454B
Characterization of intracellular calcium signaling within damage C. elegans neurons . Lin Sun, Samuel Chung, Fay Gao, Kevin Roodhouse, Christopher V. Gabel.

455C
An EMS screen in C. elegans for genes affecting RID axon guidance. Q. Ge, X. Li, X. Huang.

456A
Development and Function of RIS, a Caenorhabditis elegans GABAergic interneuron. Marie Gendrel, Diana Cai, George Baison, Darym Alden, Oliver Hobert.

457B
Mechanisms of UNC-86-mediated gene regulation in the BDU neurons. Patricia Gordon, Oliver Hobert.

458C
EGL-13, a SOX transcription factor, regulates neuronal cell fate determination of the BAG neurons. Jakob Gramstrup Petersen, Roger Pocock.

459A
RAE-1 a novel PHR binding protein regulates axon termination and synapse formation. B. Grill, L. Chen, E. D. Tulgren, S. T. Baker, M. Anderson, W. Bienvenut, Y. Jin, C. C. Garner.

460B
The role of Eph signaling in amphid commissure guidance. Emily N. Grossman, Andrew D. Chisholm.

461C
Axon guidance defects displayed by zfp-1 and lin-35 mutants depend on the presence of the transgene oxIs12. Stephan Gysi, Michael Hengartner.

462A
A new class of mutants alters dendrite length in URX oxygen-sensing neurons. Ian G. McLachlan, Valeri J. Thomson, Shai Shaham, Maxwell G. Heiman.

463B
Wnt signals and Frizzled receptors regulate dendrite formation in C. elegans . Leonie Kirszenblat, Divya Pattabiraman, Brent Neumann, Massimo A. Hilliard.

464C
Regulation of expression of the Netrin axon guidance system. Kelly L. Howell, Oliver Hobert.

465A
The C. elegans CDK8 Mediator module regulates specific axon guidance decisions in the ventral cord and suppresses SAX-3/ROBO activity during dorsal axon navigation. Andreas Steimel, Jinkyo Suh, Angela Hussainkhel, Samineh Deheshi, Jennifer Grants, Richard Zapf, Donald Moerman, Stefan Taubert, Harald Hutter.

466B
New methods to study nerve bundle organization. Richard Ikegami, Gian Garriga.

467C
Searching for factors required for BAG cell fate determination. Vaida Juozaityte, Roger Pocock.

468A
Sexual specification of ventral cord neurons. Andrea K. Kalis, Djem Kissiov, Breanna Tetreault, Jennifer Ross Wolff.

469B
Roles of 2-Ig domain proteins ZIG-1, ZIG-5, ZIG-8 and their interactions with SAX-7 in neuronal maintenance. Anagha Kulkarni, Claire Bénard.

470C
Cell fate determination of oxygen sensing neurons in C. elegans. Kasper Langebeck-Jensen, Teresa Rojo, Roger Pocock.

471A
Genome-wide RNAi screening for vhp-1 suppressors in C. elegans. Chun Li, Naoki Hisamoto, Paola Nix, Shuka Kanao, Tomoaki Mizuno, Michael Bastiani, Kunihiro Matsumoto.

472B
Neuron developmental defects caused by ethanol exposure. Conny H. C. Lin, Sasha Sa, Ken Ke-Chih Huang, Catharine Rankin.

473C
DM-domain genes dmd-3 and mab-23 specify critical cell fate characteristics in the male C. elegans ray sensorimotor circuit. M. Siehr, A. Sherlekar, P. Koo, X. Bian, D. Portman, R. Lints.

474A
Sensory Nerve Ending Regeneration during Development of the C. elegans Dopaminergic PDE Neurons. Xuemin Lu, Tori Hatch, Rita Droste, Robert Horvitz.

475B
Identifying Genes that turn Skin Cells into Neurons. G. Minevich, M. Doitsidou, S. Gowtham, H. Korswagen, O. Hobert.

476C
UNC-40 is required for neuronal morphogenesis and synapse distribution in the serotonergic NSM neuron in C. elegans. Jessica C. Nelson, Daniel Colón-Ramos.

477A
C. elegans as model system to study Nephrin/Neph protein functions. Nicola Wanner, Tobias B. Huber, Elke Neumann-Haefelin.

478B
UNC-73/Trio, the Rac GTPases, UNC-33/CRMP and UNC-44/Ankyrin are required for limiting the extent of growth cone filopodia protrusion and ectopic axon branching. Adam Norris, Erik Lundquist.

479C
A copine like protein CPNA-2 regulates neural localization of UNC-6/Netrin in Caenorhabditis elegans. Taro Asakura, Kumiko Fujita, Yoshio Goshima, Ken-ichi Ogura.

480A
Wnt, Frizzled, CAM-1/ROR and LIN-18/RYK signaling establish anteroposterior neuronal polarity. Daniel Oliver, Scott Clark.

481B
microRNA regulation of neuronal guidance in C. elegans. Mikael Egebjerg Pedersen, Goda Snieckute, Roger Pocock.

482C
A Forward Genetic Screen to Identify New Synaptic Partner Recognition Genes. Shanté O'Hanlon, Anabel Ortiz, Minh Pham, Mekala Raman, Miri VanHoven.

483A
CEH-28 regulates neuroendocrine function of the M4 pharyngeal neuron by activating dbl-1 expression. Kalpana Ramakrishnan, Paramita Ray, Peter Okkema.

484B
HLH-3 expression is necessary during embryogenesis for proper HSN differentiation and function. Saleel V. Raut, Aixa Alfonso.

485C
A genetic analysis of the axon guidance of the C. elegans pharyngeal neuron M1. Osama M. Refai, Evvi Rollins, Patricia Rohs, Jeb Gaudet.

486A
PLR-1 regulates Wnt signaling by reducing cell surface levels of Frizzled and CAM-1/ROR. Ryan Robinson, Scott Clark.

487B
MIG-10/Lamellipodin and Abelson-interactor-1(ABI-1) act together to mediate directed migration and outgrowth in C. elegans. M. McShea, S. Zhang, M. Kuhlwein, S. Hashmi, M. Dubuke, C. Grant, K. L. Schmidt, E. G. Stringham, E. F. Ryder.

488C
MADD-2 Regulates Guidance to the Midline through an UNC-40/DCC pathway in C. elegans. Ashwin Seetharaman, Mariam Alexander, Guillermo Selman, Peter Roy.

489A
The glutamatergic nervous system of C.elegans. E. Serrano, O. Hobert.

490B
Doublets' well kept secret: the sister singlets. Malan Silva, Robert O'Hagan, Ken Nguyen, David H. Hall, Maureen Barr.

491C
Netrin instructs presynaptic assembly through a synaptic MIG-10 isoform and the actin cytoskeleton. Andrea K. Stavoe, Jessica C. Nelson, Daniel A. Colón-Ramos.

492A
Regulatory logic of pan-neuronal gene expression in C. elegans. Nikolaos Stefanakis, Inés Carrera, Oliver Hobert.

493B
The Arp2/3 complex and UNC-115/abLIM act downstream of CDC-42 in neuronal lamellipodia and filopodia formation. Eric C. Struckhoff, Erik A. Lundquist.

494C
UNC-40/DCC, PTP-3/LAR, and MIG-21 regulate anterior-posterior polarization and migration of the Q neuroblasts. Lakshmi Sundararajan, Erik Lundquist.

495A
The Role of 3-O Sulfation of Heparan Sulfate in Neuronal Development in C. elegans. Eillen Tecle, Hannes Buelow.

496B
HBL-1 patterns synaptic remodeling in C. elegans. Katherine L. Thompson-Peer, Jihong Bai, Joshua Kaplan.

497C
The Messiness of Combinatorial Control. Irini Topalidou, Martin Chalfie.

498A
The prolyl 4-hydroxylase dpy-18 is required for specific axon guidance events. Nanna Torpe, Roger Pocock.

499B
PPM-1, a PP2Cα/β phosphatase, regulates axon termination and synapse formation in C. elegans. E. Tulgren, S. Baker, L. Rapp, A. Gurney, B. Grill.

500C
Sox genes in early nervous system development. Berta Vidal Iglesias, Oliver Hobert.

501A
Identifying new players involved in dorsal-ventral axon guidance in C.elegans. Jinbo Wang, Xia Li, Mei Zhen, Xun Huang.

502B
Ciliogenesis in Caenorhabditis elegans requires genetic interactions between nphp-2 and transition zone associated genes. Simon RF Warburton-Pitt, Andrew R. Juaregui, Chunmei Li, Michel R. Leroux, Maureen M. Barr.

503C
Understanding the molecular mechanisms that mediate axon outgrowth termination in C. elegans. William Wung, Johann Zaroli, Kelli Benedetti, Phil Knezevich, Joori Park, Nathan Cook, Miri VanHoven.

504A
The RFX Transcription Factor DAF-19 Couples Toll-interleukin 1 Receptor Domain Protein TIR-1 Signaling to Regulation of Neuronal Activities in C. elegans. Y. Xie, M. Moussaif, S. Choi, J. Sze.

505B
Tectonic contributes to transition zone complexes required for proper ciliogenesis. Laura Yee, Rachel Bowie, Oliver Blacque, Kaveh Ashrafi, Jeremy Reiter.

506C
Characterization of a L1 axon guidance phenotype in the mechanosensory neurons and the role of lethal genes in axon guidance. Fabian P. S. Yu, Ahmed M. Mohamed, Ian D. Chin-Sang.

507A
Searching for Negative Regulators of Neurite Outgrowth in Caenorhabditis elegans. Bo Zhang, Song Song, Xun Huang, Mei Ding.

508B
The C2H2 Zn finger transcription factor LSY-27 is involved in controlling a lateralized neuronal differentiation program in C.elegans. Feifan Zhang, Maggie O'Meara, Oliver Hobert.

509C
Identification of the sex pheromone receptors in AWA neuron. Yuan Zhou, King-Lau Chow.


Neurobiology: Synaptic function and circuits
---
510A
Interaction of an alpha-catulin homologue, CTN-1, with dystrobrevin (DYB-1) determines the localization of BK channels in Caenorhabditis elegans muscles. Linu S. Abraham, Hyun J. Oh, Hongkyun Kim.

511B
Sink or Swim: A Screen for Dopamine-Dependent Modulation of Swimming Behavior. Sarah R. Baas, J. Andrew Hardaway, Shannon L. Hardie, Sarah Whitaker, Bing Zhang, Randy D. Blakely.

512C
The Stomatins UNC-1 and STO-6 Function in the C. elegans Motor Circuit. Louis Barbier, Michelle Po, Taizo Kawano, Mei Zhen.

513A
Degeneracy and neuromodulation in the thermosensory circuit regulates robustness in thermosensory behaviors in C. elegans. Matthew Beverly, Sriram Anbil, Harold Bell, Piali Sengupta.

514B
Genetic and Neural Pathways Underlying Light-induced Inhibition of Pharyngeal Pumping by C. elegans. Nikhil Bhatla, Bob Horvitz.

515C
Genetic, pharmacological and calcium imaging analysis of mutants affecting HSN activity. Robyn Branicky, William R. Schafer.

516A
The receptor tyrosine phosphatase clr-1 is required for axon regeneration in C. elegans. Rebecca Brown, Marc Hammarlund, Stephen Strittmatter.

517B
A screen for suppressors of RHO-1 neuronal signaling identifies the dopamine reuptake transporter DAT-1. Kimberley Bryon, Andrew Porter, Rachel McMullan, Stephen Nurrish.

518C
Comparative connectomics reveals the neurobiological basis for predatory feeding behavior in Pristionchus pacificus. Daniel J. Bumbarger, Metta Riebesell, Ralf J. Sommer.

519A
Dopamine-mediated effects of phenylethylamine in living worms and isolated embryonic neurons. Bryan Safratowich, Rochelle Wickramasekara, Lucia Carvelli.

520B
CALM-1 is a Calcium Dependent Regulator of Synaptic Adhesion During Neuronal Development. Raymond Caylor, Brian Ackley.

521C
Muscarinic signaling in motor neurons facilitates neurotransmission and is dependent on Ca++ and sphingosine kinase, sphk-1. Jason P. Chan, Derek S. Sieburth.

522A
How larvae wiggle: functional analysis of the L1 larva locomotory circuit. Sway P. Chen, Anji Tang, Quan Wen, Aravinthan D. T. Samuel.

523B
Sensory inputs regulate excitatory synaptic transmission at neuromuscular junctions. S. Choi, Z. Hu, J. M. Kaplan.

524C
C. elegans: A Neurological Model to Characterize a Small Conductance Calcium-Activated K+ Channel. CK Chotoo, DC Devor, CJ Luke.

525A
A computational model of associative learning and chemotaxis in the nematode worm C. elegans. Netta Cohen, Peter Appleby.

526B
The C. elegans ERG (Ether-a-Go-Go Related Gene) K+ channel is a synaptically localized inhibitor of vulval muscle electrical excitability. Kevin M. Collins, Michael R. Koelle.

527C
Synaptic Change During C. Elegans Lethargus. Nooreen S. Dabbish, David M. Raizen.

528A
Monoamine Oxidase Inhibitors in Monoamine Receptor Mutants. Janet Duerr, Nanda Filkin, Kiel Kreuzer, Joseph Ipacs, Theresa White.

529B
The Role of Palmitoylation in Neuronal Exocytosis in Caenorhabditis elegans. Matthew Edmonds, Timothy Frost, Mary Doherty, Alan Morgan.

530C
Suppressors of neuronal RHO-1 reveal multiple downstream pathways. Muna Elmi, Andrew Porter, Rachel McMullan, Stephen Nurrish.

531A
Circuits for Copulation in the C. elegans Male Tail. A. Bloniarz, T. Jarrell, Y. Wang, M. Xu, D. H. H. Hall, S. W. Emmons.

532B
Function of VAV-1 in nervous system control of locomotion. Amanda Fry, Kenneth Norman.

533C
The functional connectivity of male-specific CEM neurons in C. elegans. Lan Fu, King L. Chow.

534A
Dopamine signaling for regulating experience-dependent odor avoidance. Kosuke Fujita, Kotaro Kimura.

535B
A Co-operative Regulation of Neuronal Excitability by UNC-7 Innexin and NCA/NALCN Leak Channel. Magali Bouhours, Michelle Po, Shangbang Gao, Lin Xie, Wesley Hung, Hang Li, John Georgiou, John Roder, Mei Zhen.

536C
Analysis of the Molecular Mechanism of Serotonin Signaling in C. elegans. Guliz Gurel, Michael Koelle.

537A
Identification of chloride transporters that regulate GABA signaling. B. Han, A. Bellemer, M. Koelle.

538B
Partners in Fatty Acid Beta Oxidation: Role of KLF-3 in Fat Burning and Reproductive Behavior of C. elegans. Sarwar Hashmi, Jun Zhang, Xiao-Liang Chen, Mahmood Hussain, I. Dhansingh, Shahid Siddiqui.

539C
A new connectivity model for the locomotion network. Gal Haspel, Michael J. O'Donovan.

540A
Contribution of LEV-8 Subunit to the Kinetics of Activation and Desensitization of C. elegans Muscle Levamisole-Sensitive Nicotinic Receptors. Guillermina S. Hernando, Diego H. Rayes, Cecilia B. Bouzat.

541B
Braking fusion: synaptotagmin relieves the complexin block on synaptic release. RJ. Hobson, S. Watanabe, Q. Liu, EM. Jorgensen.

542C
Microbial proton pumps as hyperpolarizers complement the optogenetics toolbox in Caenorhabditis elegans. Steven J. Husson, Jana F. Liewald, Jeffrey N. Stirman, Hang Lu, Alexander Gottschalk.

543A
C. elegans mutants defective in neuropeptide amidation enzymes are abnormal in egg-laying behavior. Steven J. Husson, Liesbet Temmerman, Bart Landuyt, Ellen Meelkop, Niels Ringstad, H.Robert Horvitz, Alexander Gottschalk, Liliane Schoofs.

544B
Integration of temperature signals in interneurons of C. elegans. Shingo Ikeda, Tsubasa Kimata, Ikue Mori.

545C
Neuronal modeling toward quantitative understanding of nervous system of C. elegans. Yuishi Iwasaki, Masahiro Kuramochi, Kazumi Sakata, Shigekazu Oda, Yuichi Iino, Ryuzo Shingai.

546A
Stress response to food depravation is modulated by non-synthesizing 5-HT neurons that absorb non-synaptic 5-HT, via 5-HT transporter, MOD-5/SERT, in C. elegans. Gholamali Jafari, Bin Liang, Andrey Kullyev, Ji Ying Sze.

547B
Forward screen for mutants lacking a food block on olfactory adaptation. Laine Janzen, Amanda Cha, Ghazal Ghafari, Stephanie Summers, Sara Llamas, Pilar Stinson, Noelle L'Etoile, Jared Young.

548C
Progress Towards a Reconstruction of a C. elegans Male Anterior Nervous System. T. Jarrell, Y. Wang, A. Bloniarz, M. Xu, C. Brittin, K. Nguyen, D. H. H. Hall, S. W. Emmons.

549A
Temporal processing of olfactory information in C. elegans chemosensory neurons. Saul Kato, Yifan Xu, Christine Cho, L. F. Abbott, Cornelia Bargmann.

550B
Characterization of the novel TOM-1 binding partner, VPS-39, in C. elegans. Susan M. Klosterman, Szi-Chieh Yu, Anna O. Burdina, Janet E. Richmond.

551C
AGS-3 alters C. elegans behavior after food deprivation via RIC-8 activation of the neural G protein Gαo. Catherine Hofler, Michael Koelle.

552A
Oxidative stress induces loss of GFP labeled neurons and delayed development to adulthood in an unc-13 mutant. Caitlyn McLarnon, Caitlin McGee, Lauren King, Christopher Frymoyer, Elizabeth Roth, Laura Gurenlian, Alicia N. Minniti, Nibaldo C. Inestrosa, Rebecca E. Kohn.

553B
Investigation of Anaphase Promoting Complex Function in Regulating Synaptic Transmission at the C. elegans Neuromuscular Junction. Jennifer R. Kowalski, Hitesh Dube, Tina Jumani, Peter Juo.

554C
An approach towards identification of cell recognition molecules involved in synapse specificity in the nematode Caenorhabditis elegans. Maria I. Lazaro-Pena, Adam Bloniarz, Travis Jarrell, Scott W. Emmons.

555A
ABI-1 controls acetylcholine receptor clustering and rpy-1 expression level. Bo Yun Lee, Seugnhee Nam, Junho Lee.

556B
Short-term synaptic depression and vesicle pool refilling at the C. elegans neuromuscular junction. Qiang Liu, Shigeki Watanabe, Erik Jorgensen.

557C
C. briggsae puf-2 regulates pharyngeal muscle physiology and is essential for postembryonic development. Qinwen Liu, Eric Haag.

558A
Screening for ACR-16 clustering mutants. Ashley A. Martin, Feyza Sancar, Janet E. Richmond.

559B
The sup-1 gene encodes a novel transmembrane protein that interacts with the UNC-17 vesicular acetylcholine transporter in C. elegans. Ellie Mathews, Greg Mullen, Jonathan Hodgkin, Janet Duerr, Jim Rand.

560C
C. elegans Presenilin Regulates Muscle Cell Excitability. Erin E. McClure, Ken R. Norman.

561A
Epileptogenesis: Using C. elegans to elucidate the mechanism of a neural circuitry switch. Allyson V. McCormick, James H. Thomas, Brian C. Kraemer.

562B
The DAF-7/TGF-β signaling pathway regulates the abundance of the glutamate receptor GLR-1 in the ventral nerve cord. Annette McGehee, Peter Juo.

563C
Affinity Purification and Identification of Complexes of Interacting Proteins Directly from the C. elegans Nervous System. Christopher Hoover, Stacey Edwards, Michael Kinter, Caroline Kinter, Kenneth Miller.

564A
Forward Genetic Analysis of Dense Core Vesicle Maturation and Function. Stacey Edwards, Christopher Hoover, Kenneth Miller.

565B
Functional imaging of neuronal activity for 2-nonanone stimulation. Yosuke Miyanishi, Junichi Nakai, Kotaro Kimura.

566C
The Novel Conserved Gene C44B9.1 Regulates C. elegans Behavior through G Protein Signaling and Likely Regulates Synaptic Vesicle Release. N. Paquin, A. Froehlich, D. Omura, H. R. Horvitz.

567A
Mutants that fail to respond to exogenous serotonin identify new serotonin signaling genes. Judy S. Pepper, Michael R. Koelle.

568B
An ADAMTS-Like protein is required for acetylcholine receptor localization. Berangere Pinan-Lucarre, Valerie Robert, Jean-Louis Bessereau.

569C
ACR-12 receptor signaling complexes regulate motor circuit activity. Hilary Prescott, Marian Haburcak, Michael Francis.

570A
A neuropeptide-mediated stretch response links muscle contraction to changes in neurotransmitter release. Zhitao Hu, Edward Pym, Kavita Babu, Amy Vashlishan Murray, Joshua Kaplan.

571B
A Gq and CaMKII-dependent serotonergic circuit in C. elegans aversive olfactory learning. Yuqi Qin, Xiaodong Zhang, Yun Zhang.

572C
Transgenic expression of mammalian neuroligin rescues the phenotypes of C. elegans neuroligin-deficient (nlg-1) mutants. Jerrod Hunter, Greg Mullen, Ellie Mathews, Jessica Heatherly, Jim Rand.

573A
UNC-41/stonin functions with AP2 to recycle synaptic vesicles in C. elegans. Greg Mullen, Kiely Grundahl, Mingyu Gu, Shigeki Watanabe, Robert Hobson, John McManus, Ellie Mathews, Erik Jorgensen, Jim Rand.

574B
The core apoptotic executioner proteins CED-3 and CED-4 promote initiation of neuronal regeneration in Caenorhabditis elegans. B. Pinan-Lucarre, C. V. Gabel, C. P. Reina, M. Driscoll.

575C
Control of acetylcholine receptor maturation and ER homeostasis by a new transmembrane complex. Magali Richard, Thomas Boulin, Janet Richmond, Jean-Louis Bessereau.

576A
Single-neuron photoactivation by cell-specific expression of Channelrhodopsin-2 using the cre-lox system to analyze habituation in sensory neural circuits. Cornelia Schmitt, Alexander Gottschalk.

577B
Carbon dioxide avoidance is mediated by a diverse set of sensory neurons in C. elegans. Z. Soltesz, A. J. Bretscher, M. de Bono.

578C
Notch signaling regulates synaptic transmission at the neuromuscular junction. Altar Sorkaç, Komudi Singh, Michael DiIorio, Anne Hart.

579A
WDR-23 mediates synaptic transmission by regulating the transcription factor SKN-1 in motor neurons. Trisha Staab, Trevor Griffen, Derek Sieburth.

580B
A conserved role of α-adducin (ADD-1) in memory, synaptic plasticity, and in AMPA-type glutamate receptor dynamics. Vanja Vukojevic, Leo Gschwind, Christian Vogler, Philippe Demougin, Dominique de Quervain, Andreas Papassotiropoulos, Attila Stetak.

581C
Subcellular localization and protein interactions of PTL-1 in Caenorhabditis elegans. Kathleen M. Susman, Joshua Sturm, Celia McKee, Eunice Chou, Nancy J. Pokrywka.

582A
New Approach in Systems Neuroscience in C.elegans. Hiroshi Suzuki.

583B
MOD-5/SERT Function in 5-HT-absorbing Neurons Controls Behavioral Response to Food Deprivation. G. Jafari, Y. Xie, A. Kullyev, B. Liang, J. Sze.

584C
A genome-wide RNAi screen for levamisole sensitivity identifies new regulators of post-synaptic signaling. Jessica E. Tanis, Timothy Chaya, Todd Lamitina.

585A
Gustatory plasticity in C. elegans involves sensitisation of ASH nociceptive neuron and desensitisation of ASE gustatory neuron. Oluwatoroti Umuerri, Martijn Dekkers, Gert Jansen.

586B
Modulation of Neuropeptide Release by Locomotion. Amy B. Vashlishan Murray, Kavita Babu, Edward C. G. Pym, Zhitao Hu, Joshua M. Kaplan.

587C
An Open-Source Neuromechanical Model of C. Elegans Locomotion. Thomas Voegtlin, Netta Cohen.

588A
Regulation of a rhythmic behavior in C. elegans by neuropeptide signaling. Han Wang, Kelly Girskis, Krishnakali Dasgupta, Derek Sieburth.

589B
The Role of Nicotinic Acetylcholine Receptors in Antipsychotic-induced Phenotypes in Caenorhabditis elegans. T. Xu, X. Wang, L. Hao, BM Cohen, EN Buttner.


Neurobiology: Behavior
---
590C
Genetic analysis of acute ethanol responsive behaviors in C. elegans. Joseph Alaimo, Keith Shelton, Andrew Davies, Jill Bettinger.

591A
Calcium-dependent regulation of proton signaling during a rhythmic behavior in C. elegans. Erik Allman, Keith Nehrke.

592B
Investigating neural coding and interacting circuits. Evan L. Ardiel, Andrew C. Giles, Ithai Rabinowitch, William R. Schafer, Catharine H. Rankin.

593C
A Possible Role for nhr-239 in Sensory Response. G. Michael Baer, Christopher Alvaro, Benjamin Perlman, Bruce Wightman.

594A
Characterization of an evolutionary conserved vasopressin/oxytocin-like signaling system in C. elegans. Isabel Beets, Ellen Meelkop, Liesbet Temmerman, Tom Janssen, Marleen Lindemans, Liliane Schoofs.

595B
A role for heterochronic genes in regulating C.elegans quiescence. Heather L. Bennett, Komudi Singh, Edward Anderson, Mark E. Corkins, Anne C. Hart.

596C
Membrane lipid environment is important for the development of acute functional tolerance to ethanol. Jill C. Bettinger, Mia H. Bolling, Kapo Leung, Joseph T. Alaimo, Andrew G. Davies.

597A
Huffing and drinking are not the same: Screening for targets of toluene and ethanol. Ryan I. Friedberg, ChungLung Chan, Hersh Gupta, Victoria E. Brings, Charlotte M. Wincott, Keith L. Shelton, Jill C. Bettinger, Andrew G. Davies.

598B
Lethargus is a highly regulated behavior, characterized by quiescence- and motion-bouts and a typical posture. S. Iwanir, S. Nagy, N. Tramm, C. Wright, D. Biron.

599C
Spontaneous recovery from habituation to tap is interstimulus interval-dependent. Ricardo Bortolon, Catharine H. Rankin.

600A
A C. elegans movement assay for the assessment of neurotoxicity and genetic mutations. Windy A. Boyd, Daniel W. Snyder, Grace E. Kissling, Jonathan H. Freedman.

601B
Maintenance of the identity of the chemosensitive BAG neurons requires an ETS family transcription factor. Julia P. Brandt, Sonya Aziz-Zaman, Jennifer K. Lee, Niels Ringstad.

602C
Perception of bacteria by the AWC neuron. Chantal Brueggemann, Damien O'Halloran, Noelle L'Etoile.

603A
Samamide is a new small-molecule probe of behavioural quiescence in C. elegans. Andrew R. Burns, Suji Tharmalingalam, William S. Ryu, Sean R. Cutler, David R. Hampson, Peter J. Roy.

604B
Spatial memory in C. Elegans. Adam Calhoun, Tatyana Sharpee, Sreekanth Chalasani.

605C
The paraoxonase-like protein K11E4.3 is needed for gentle touch and mec-4(d)-mediated neurodegeneration. Yushu Chen, Martin Chalfie.

606A
Characterization of Electrotaxis Behavior in C. elegans. Steven D. Chrisman, Eric Foss, Lucinda Carnell.

607B
The rescue of ODR-1. Kimberly D. Collins.

608C
Dopaminergic receptor signaling in sex-muscles antagonizes cholinergic induced excitability post-eyaculation during male mating of C. elegans. Paola Correa, Garcia Rene.

609A
Dissecting predator/prey interactions in C. elegans. Kevin Curran, Ray Hong, Sreekanth Chalasani.

610B
Uncovering the molecular basis for ethanol activation of the BK channel using random mutagenesis. Scott J. Davis, Sam Song, Kelly Milman, Jon Pierce-Shimomura.

611C
Behavioral characterization of BTBD9 homolog knockout in C.elegans. Atbin Doroodchi, Mark DeAndrade, Anthony Bucolo, Michael Miller, Charles Amsler, Qiang Ding, Yuqing Li.

612A
The functional importance of the MEC-4 transmembrane domain in force activation of the channel. Amy L. Eastwood, Miriam B. Goodman.

613B
Innexin gene inx-4 mutant is defective in thermotaxis. Taishi Emmei, Nana Nishio, Hiroyuki Sasakura, Mari Akasaka, Ikue Mori.

614C
Overexpression of APL-1 disrupts learning via the insulin/IGF-1 and TGF-β pathway. Collin Ewald, Ruby Cheng, Lana Tolen, Vishal Shah, Aneela Gillani, Afsana Nasrin, Chris Li.

615A
Modeling neuron, circuit and biology of Caenorhabditis elegans leads to a digital worm that conducts automatic locomotion, providing testable hypothesis regarding reversal control. Shijie Zhang, Beverly Piggot, Wei Jin, Shawn Xu, Jiong Yang, Zhaoyang Feng.

616B
Role of the 5-HT1 receptor homolog, ser-4, and the CREB homolog, crh-1, in behavioral adaptation to chronic activation of serotonergic pathways in C. elegans. Eric Foss, Lucinda Carnell.

617C
Chemotaxis behavior is regulated by germline in C. elegans. M. Fujiwara, N. Sato, S. Maruyama, T. Akamine, T. Ishihara.

618A
Automated and Quantitative Method to Identify Satiety Quiescence by Locomotion. Thomas L. Gallagher, Young-jai You.

619B
Quantitative genetic dissection of a behavioral sequence in C. elegans. Rajarshi Ghosh, William S. Ryu, Leonid Kruglyak.

620C
Secondary Allele Screen for Extreme Habituation Phenotypes after High Throughput Behavioral Characterization of a Nervous-system-biased Mutant Library. Andrew C. Giles, Nicholas A. Swierczek, Rex A. Kerr, Catharine H. Rankin.

621A
Male mating potency decline during adulthood is correlated with the increase of sex muscles excitability in C. elegans. Xiaoyan Guo, Rene Garcia.

622B
Another PKG: C09G4.2. Anu Gupta.

623C
Candidate mediators of the food block on olfactory adaptation. Paula M. Gutierrez, Jared Young, Joshua Braslow, Noelle L'Etoile.

624A
The Effect of Hermaphrodite Sperm Status on C. elegans Sexual Attraction. Leonard A. Haas, Natalia Morsci, Maureen Barr.

625B
Antipsychotic drug-induced developmental delay and lethality require the sphingomyelin synthase gene sms-1. L. Hao, B. Cohen, E. Buttner.

626C
TYRA-3 mediates the tyraminergic "inhibition" of 5-HT-stimulated aversive responses in Caenorhabditis elegans. Vera M. Hapiak, A. Stein, A. Korchnak, R. W. Komuniecki.

627A
Oriental Beetle Pheromone Insensitive Mutants in Pristionchus pacificus. Jonathan Yaghoobian, Jessica Ciinkornpumin, Judy Salandanan, Neomal Muthumala, Jeffrey Shibata, Christoph Dieterich, Ray Hong.

628B
Molecular mechanism governing interaction between nematodes and nematophagous fungi. Yen-Ping Hsueh, Erich Schwarz, Ry Forseth, Frank Schroeder, Paul Sternberg.

629C
An RNAi screen for defecation mutants. Andrew Burns, Lois Immerman, Jessica Bennett, Latarsha Porscher, Samuel McCright, Hillary Mullan, Monica Raible, Matthew Miller, Maureen Peters.

630A
CRF receptor-like GPCR mediated stress response and regulates behavioral states in C. elegans. Changhoon Jee, Jungsoo Lee, Steven McIntire, L. René García.

631B
EGL-19, UNC-36 and CCB-1 underlie voltage-dependent calcium currents in C. elegans striated muscle. Viviane Lainé, Christian Frřkjćr Jensen, Maëlle Jospin.

632C
CNP-2 (Calcineurin Interacting Protein-2) modulates calcineurin activity in Caenorhabditis elegans. Hana Jung, Hyun-Ok Song, Weixun Li, Sunkyung Lee, Joohong Ahnn.

633A
Role of ER resident proteins Calnexin and Calreticulin in Chemosensory Behavior in C. elegans. Karunambigai Kalichamy, Sunkyung Lee, Joohong Ahnn.

634B
C. elegans locomotory pattern, pausing frequency and speed is regulated by the CEP sheath glia. Menachem Katz, Francis Corson, Shai Shaham.

635C
Biomechanical analysis of C. elegans locomotion. Daeyeon Kim, Jin-Sung Park, David Weitz, Jennifer H. Shin.

636A
Food Size and cGMP Affects Feeding Behavior in Pristionchus pacificus. Silvina Kroetz, Ray Hong.

637B
Analysis of temperature memory in cultured thermosensory neuron AFD of C. elegans. K. Kobayashi, I. Mori.

638C
A Deletion Mutation of the C. elegans CaMKII Gene unc-43 Inhibits Associative Conditioning and Modulates Non-Associative Conditioning. Sara M. Knauft, Robert M. Bragg, Jade R. Brusseau, Jacqueline K. Rose.

639A
Experience-dependent modulation of salt preference in C. elegans. Hirofumi Kunitomo, Ryo Iwata, Hirofumi Sato, Hayao Ohno, Yuichi Iino.

640B
The Ca2+-binding C2 domain of PKC-2 couples thermal activation of TAX-2/TAX4 to C. elegans behavior. Marianne Land, Charles Rubin.

641C
Do ascarosides affect egg-laying behavior in Caenorhabditis elegans? Circe Lassegue, Ramadan Ajredini, Rathika Nimalendran, Arthur Edison.

642A
K+ channel interplay modifies male mating response. Brigitte L. LeBoeuf, L. Rene Garcia.

643B
Tracing the genetic basis of the nictation behavior by QTL mapping. Daehan Lee, Junho Lee.

644C
Neuronal Regulation of Nictation Behavior in Caenorhabditis elegans. Harksun Lee, Myung-kyu Choi, Daehan Lee, Hye-sung Kim, Hyejin Hwang, Heekyeong Kim, Sungsu Park, Young-ki Paik, Junho Lee.

645A
STR-33, a novel G protein-coupled receptor that regulates locomotion and egg-laying in Caenorhabditis elegans. J. E. Lee, P. Y. Jeong, H. J. Joo, H. Kim, T. H. Lee, H. Koo, Y. K. Paik.

646B
Identification of Genes that Mediate Ethanol-Induced Acute Functional Tolerance in C. elegans. Ka-Po Leung, Mia Bolling, Gina Blackwell, Jennifer Gardner, Andrew Davies, Jill Bettinger.

647C
Genetic and molecular investigation of PKD-2 and LOV-1 involved in male C. elegans perception of sex pheromone. Rachel C. K. Li, King L. Chow.

648A
The neural circuits underlying harsh touch sensation in C. elegans. Wei Li, Lijun Kang, Beverly Piggott, Zhaoyang Feng, Shawn Xu.

649B
The robustness of C. elegans male mating behavior depends on the distributed properties of ray sensory neurons and their output through core and male-specific targets. Pamela Koo, Xuelin Bian, Amrita Sherlekar, Meredith Bunkers, Robyn Lints.

650C
Candidate screen for mutants defective in long-term memory of habituation. Andrea McEwan, Catharine Rankin.

651A
Humoral Cholinergic Signaling Augments Male Reproductive Motivation. James T. Midkiff.

652B
Screen to identify mutants that fail to adapt to the inhibitory effects of serotonin on locomotory behavior. Spencer Moen, Eric Foss, Lucinda Carnell.

653C
Assessing the neurotoxic effects of microcystins by developing a simple C. elegans model. Caroline Moore, Noelle L'Etoile, Birgit Puschner.

654A
Coordinated neural and mechanical modifications regulate sexual variation in C. elegans locomotor behavior. William R. Mowrey, Douglas S. Portman.

655B
Isolation and analysis of dauer pheromone response-defective (phd) mutants. Scott J. Neal, Kyuhyung Kim, Rebecca A. Butcher, Frank C. Schroeder, Piali Sengupta.

656C
The role of cilia in cGMP signaling in the AFD thermosensory neuron. Phuong Anh T. Nguyen, Jacque-Lynne Johnson, Michel R. Leroux.

657A
Analysis of molecular basis for thermotactic behavior regulated by CREB in Caenorhabditis elegans. Yukuo Nishida, Takuma Sugi, Mayu Nonomura, Ikue Mori.

658B
Appetitive olfactory learning and associative long-term memory in C. elegans . Saori Nishijima, Ichiro Maruyama.

659C
Quantitative analysis of exploratory patterns during thermotaxis. Yuta Ochiai, Yuki Tsukada, Ikue Mori.

660A
Biased motion in unbiased environments: are the worms navigating? Margherita Peliti, John Chuang, Stanislas Leibler, Shai Shaham.

661B
A calcineurin homologous protein is required for multiple sodium-proton exchange events in the C. elegans intestine. Jamie Wagner, Erik Allman, Ashley Taylor, Kiri Ulmschneider, Timothy Kovanda, Bryne Ulmschneider, Keith Nehrke, Maureen Peters.

662C
Influence of Body Mechanics on Force Thresholds for Touch Sensation in C. elegans. Bryan C. Petzold, Sung-Jin Park, Miriam B. Goodman, Beth L. Pruitt.

663A
Mammalian rhodopsin can functionally substitute for C. elegans photoreceptor to restore light sensitivity in worms. Beverly J. Piggott, Jingwei Gao, Jie Liu, X. Z. Shawn Xu.

664B
Hypoxia avoidance response in C. elegans requires goa-1 and dgk-1. Jason N. Pitt, Mark B. Roth.

665C
Is lethargus essential? David M. Raizen, Robert J. Driver, Annesia L. Lamb.

666A
Uncovering the molecular and cellular basis for hygrosensation in C. elegans. Josh Russell, Jon Pierce-Shimomura.

667B
Sexual identity of core neuronal circuitry modulates sex-specific behaviors in C. elegans. Renee M. Miller, Deborah A. Ryan, Kelli Fagan, Douglas S. Portman.

668C
C. elegans uses distinct molecular mechanisms to respond to thermal impulse stimuli of different amplitudes. Rajarshi Ghosh, Aylia Mohammadi, Leonid Kruglyak, William S. Ryu.

669A
Microfluidics approach to study neurodegeneration in a Caenorhabditis elegans Parkinson's disease model. Sangeena Salam, Pouya Rezai, P. Ravi Selvaganapathy, Bhagwati P. Gupta.

670B
How worms move up and down salt gradients. L. Luo, M. Hendricks, Y. Zhang, A. Samuel.

671C
Exploring the Function of TRF-1 in Polycystin-Expressing Sensory Neurons. Dianaliz Santiago-Martinez, Maria Gravato-Nobre, Jonathan Hodgkin, Maureen M. Barr.

672A
Regulation of thermosensation by SRTX-1(GPCR) in AFD thermosensory neurons. Hiroyuki Sasakura, Keita Suzuki, Hiroko Itoh, Ikue Mori.

673B
High alkaline pH sensation in C. elegans. Toshihiro Sassa, Takashi Murayama, Ichiro Maruyama.

674C
Experience-dependent modulation of the neuronal response in the gustatory circuit. Hirofumi Sato, Hirofumi Kunitomo, Shigekazu Oda, Yuichi Iino.

675A
Changes in responsivity of olfactory neurons to odor during olfactory adaptation and recovery in Caenorhabditis elegans . E. Sawatari, A. Inoue, T. Teramoto, T. Ishihara.

676B
Mapping the neural circuits that function downstream of the sensory rays in C. elegans male mating behavior. Amrita Sherlekar, Pamela Koo, Xuelin Bian, Robyn Lints.

677C
Notch signaling regulates chemosensation and behavioral adaptation to stress. Komudi Singh, Anne C. Hart.

678A
Notch signaling regulates many aspects of quiescence during C. elegans lethargus. Komudi Singh, Heather L. Bennett, Altar Sorkac, Michael A. Dilorio, Anne C. Hart.

679B
Variation in temperature-dependent behaviours among natural isolates of Caenorhabditis briggsae. Gregory Stegeman, Jiwon Shin, Nan Lin, Matthew Bueno De Mesquita, Asher Cutter, William Ryu.

680C
Temporal and molecular characterization of short-term associative memory in C. elegans. Geneva M. Stein, Amanda L. Kauffman, Coleen T. Murphy.

681A
Regulation of behavioral plasticity by systemic temperature perception in Caenorhabditis elegans. Takuma Sugi, Yukuo Nishida, Ikue Mori.

682B
Bold TextEffects of ionizing radiation on pharyngeal pumping in Caenorhabditis elegans. Michiyo Suzuki, Tetsuya Sakashita, Yuya Hattori, Toshio Tsuji, Yasuhiko Kobayashi.

683C
Revealing the promiscuous nature of pigment dispersing factor signaling. Liesbet Temmerman, Ellen Meelkop, Annelies Bogaerts, Liliane Schoofs, Tom Janssen.

684A
Analysis of molecular mechanisms that integrate sensory perception of nutrient with rhythmic motor output. Baskaran Thyagarajan, Keith W. Nehrke.

685B
Ca2+-CaM-dependent protein Kinase I is required for short- and long-term mechanosensory habituation. Tiffany A. Timbers, Jing Xu, Catharine H. Rankin.

686C
Role of dopamine in locomotory transitions in C. elegans. S. Topper, A. Vidal-Gadea, L. Young, A. Gottschalk, J. Pierce-Shimomura.

687A
Molecular mechanism of salt taste. Oluwatoroti Umuerri, Gert Jansen.

688B
Glial regulation of chemosensation. Sean W. Wallace, Shai Shaham.

689C
GRK-2 regulates serotonin metabolism and egg-laying behavior in C. elegans. Jianjun Wang, Jiansong Luo, Dipendra Aryal, William Wetsel, Jeffrey Benovic.

690A
Bending waves during C. elegans locomotion are driven by proprioceptive coupling. Quan Wen, Elizabeth Hulme, Sway Chen, Xinyu Liu, Marc Gershow, Andrew Leifer, Victoria Butler, Christopher Fang-Yen, William Schafer, George Whitesides, Matthieu Wyart, Dmitri Chklovskii, Aravinthan Samuel.

691B
Acetylcholine-Gated Chloride Channels (ACCs) may be involved in development and behaviour, suggesting a central role for fast inhibitory cholinergic neurotransmission in C.elegans. Claudia M. Wever, Patrick Janukavicius, Jin-Kyung Chang, Danielle Farrington, Julian Gitelman, Igor Putrenko, Joseph A. Dent.

692C
In vivo structure-function analysis of C. elegans GRK-2. Jordan Wood, Jeffrey Benovic, Denise Ferkey.

693A
Worms maintain their response to the repulsive odor 2-nonanone during avoidance behavior. Akiko Yamazoe, Yuishi Iwasaki, Kotaro Kimura.

694B
Olfactory preference switch depending on odor concentration is mediated by combinatorial change of acting sensory neurons. K. Yoshida, T. Hirotsu, T. Tagawa, S. Oda, Y. Iino, T. Ishihara.

695C
Calcium-activated chloride channels (CaCCs) act as ciliary sensory receptors in C.elegans. Yuxia Zhang, Jinghua Hu.


Development and Evolution: Cell fate patterning (embryonic and postembryonic)
---
696A
Two homeodomain transcription factors, MLS-2 and CEH-6, promote tube development in the excretory system. Ishmail Abdus-Saboor, Craig Stone, John Murray, Meera Sundaram.

697B
The C. elegans Wnt Effector TCF/LEF/POP-1 Acts to Protect the Signalled Fate by Restricting β-catenin/WRM-1 to the Nucleus in Stem-Like Seam Cells. Peter J. Appleford, Charles Brabin, Alison Woollard.

698C
A focused reverse genetic screen for regulators of Distal Tip Cell specification. Austin T. Baldwin, Bryan T. Phillips.

699A
Towards a quantitative understanding of the vulva cell fate patterning network. Michalis Barkoulas, Marie-Anne Félix.

700B
gad-1 RNAi Leads to a General Increase in Cell Lifetimes During Development. Max E. Boeck, Robert Waterston.

701C
A regulatory network of homeobox genes is required for the function of the Caenorhabditis elegans excretory cell. Yong-Guang Tong, Krai Meemon, Thomas R. Burglin.

702A
A Genetic Screen for Kinases regulating Body Size with calcineurin in C. elegans.. Tae-Woo Choi, Joohong Ahnn.

703B
Identification of genes that genetically interact with pha-4/FoxA to regulate pharynx development. Youngeun Choi, Trisha J. Brock, Dustin L. Updike, Susan E. Mango.

704C
Interaction of TGFβ regulators, LON-1 and LON-2 with its downstream target, DBL-1. Y. J. Ang, J. C. C. Lee, C. K. H. Wong, M. Mok, K. L. Chow.

705A
Geometric modeling of C. elegans vulval patterning. Francis Corson, Eric Siggia.

706B
Dormant Self-renewal Program of C. elegans Early Blastomeres Controlled by Protein Turnover. Zhuo Du, Anthony Santella, Zhirong Bao.

707C
Use of Single-molecule FISH To Determine Expression Patterns and Functions of C. elegans Lysine Methyltransferases. Christoph G. Engert, Alexander van Oudenaarden, Bob Horvitz.

708A
Multiple Routes to Suppressing aph-1(zu147) Embryonic Lethality. Victoria Fang, Valerie Hale, Caroline Goutte.

709B
Rab-8 functions to mediate excretory cell development in C. elegans. D. A. Fantz, K. Kornfeld, D. Smith.

710C
Identification and characterization of cell type-specific Wnt pathway-regulated genes in C. elegans. Lakshmi Gorrepati, David. M. Eisenmann.

711A
Exploring Presenilin Differences in C. elegans. Caitlin Greskovich, Rebecca Resnick, Valerie Hale, Caroline Goutte.

712B
Environmental flexibility of the genetic network underlying C. elegans vulval development. Stephanie Grimbert, Christian Braendle.

713C
A role of the LIN-12/Notch signaling pathway in diversifying the non-striated egg-laying muscles in C. elegans. Jared Hale, Carolyn George, Leila Toulabi, Zachary Via, Nirav Amin, Jun Liu.

714A
Single-blastomere transcriptomics elucidates the C. elegans E-lineage gene regulatory network. Tamar Hashimshony, Florian Wagner, Itai Yanai.

715B
Identification of genes that function with dsh-2 to regulate asymmetric cell division. Kyla Hingwing, Tammy Wong, Jack Chen, Nancy Hawkins.

716C
Distinct protein domains regulate stability and patterning of MEX-3 in the C. elegans embryo. Nancy N. Huang, Craig P. Hunter.

717A
The CEH-20/UNC-62 transcriptional partnership regulate seam cell proliferation by controlling division asymmetry. Samantha L. Hughes, Charles Brabin, Alison Woollard.

718B
Geometric Comparisons of the EMS Blastomere in Caenorhabditis elegans and C. briggsae. Corey R. Johnson, Scott Thatcher, Timothy D. Walston.

719C
Transcriptional control of dorsal-ventral polarity. Rossio K. Kersey, Thomas Brodigan, Tetsu Fukushige, Michael Krause.

720A
Study on localization mechanisms of maternal mex-3 mRNA. Hiroyuki Konno, Koki Noguchi, Yuji Kohara.

721B
Region II of the C. elegans Transcription Factor LIN-31: Site-Directed Mutagenesis and Transcription Assay Development. Sarah Mathes, Leilani Miller.

722C
Role of PHA-4/FoxA binding in cell fate specification during organogenesis. Christina K. McPhee, Susan E. Mango.

723A
ACE-like non-peptidase (acn-1) as a new suppressor of let-7. Chanatip Metheetrairut, Frank Slack.

724B
Understanding the Role of MAP Kinase Phosphorylation in C. elegans Cell Signaling. Fernando Meza Gutierrez, Misbah Palla, Leilani Miller.

725C
Mutational and yeast two-hybrid analysis of the C. elegans winged-helix transcription factor LIN-31 reveal functionally-distinct domains. Corey Morris, David Doroquez, Scott Montgomery, E. Lorena Mora-Blanco, Misbah Palla, Leilani Miller.

726A
RalGEF (RGL-1) signaling performs dual/antagonistic functions in vulval patterning. Kimberly B. Monahan, Tanya P. Zand, Channing J. Der, David J. Reiner.

727B
Automated phenotyping of Caenorhabditis elegans embryogenesis at the single cell and cellular group levels. Julia Moore, Zhou Du, Anthony Santella, Christian Pohl, Zhirong Bao.

728C
Regulation of Asymmetric Seam Cell Division by the Non-Receptor Tyrosine Kinase, FRK-1, during Post-embryonic Development in Caenorhabditis elegans. Kelsey Moore, James Bour, Sherri Smith, Aaron P. Putzke.

729A
Genetic analysis of vulval development in Caenorhabditis briggsae. Devika Sharanya P. Premkumar, Bavithra Thillainathan, Bhagwati P. Gupta.

730B
Screening for Inhibitors of Cellular Reprogramming. Tulsi Patel, Baris Tursun, Dylan Rahe, Oliver Hobert.

731C
Components that Transduce Extracellular Matrix Signals Are Required for Developmental Commitment of C. elegans Embryonic Progenitor Cells. Misty R. Riddle, Nareg J. Djabrayan, Joel H. Rothman.

732A
The chromo-helicase domain protein CHD-7 is a putative regulator of WNT-ligands. Daniel Roiz Lafuente, Ivo Rimann, Steffanie Nusser-Stein, Alex Hajnal.

733B
Evolution of embryonic development in nematodes. Jens Schulze, Einhard Schierenberg.

734C
Plectus - a stepping stone in embryonic cell lineage evolution of nematodes. Jens Schulze, Jana Uenk, Einhard Schierenberg.

735A
The Panacea Consortium: Identification of new Modulators of EGFR/RAS/MAPK and WNT signaling during vulval development. Tobias Schmid, Fabienne Largey, Alex Hajnal.

736B
The histone acetylation, methylation, and H2A.z are involved in the maintenance of cell fates in C. elegans. Yukimasa Shibata, Hitoshi Sawa, Kiyoji Nishiwaki.

737C
The β-catenin HMP-2 functions downstream of Src in parallel with the Wnt pathway in early embryogenesis of C. elegans. Eisuke Sumiyoshi, Sachiko Takahashi, Hatsue Obata, Asako Sugimoto, Yuji Kohara.

738A
Nhr-67/tailless Functions in the AC-VU Decision, AC Differentiation, and Expression of lin-12 in the pre-VU Cells. Tara Tappen, Lauren Pioppo, Brittany Sanford, Jenny Hall, George McClung, Rachel Summer, Alex Breiding, Sheila Clever, Bruce Wightman.

739B
Quantifying gene expression dynamics of LIN-3/EGF targets during vulva induction. Jeroen S. van Zon, Alexander van Oudenaarden.

740C
RNAi screening in Caenorhabditis elegans Ras mutant identified blmp-1 as a putative Ras cooperating tumor suppressor gene. Nattha Wannissorn, Andy Fraser.

741A
Comparing gene expression pattern in the skn-1 intestinal developmental network in C. briggsae, C. remanei, and C. elegans to gain insights into the dynamical functional roles of orthologous genes. Allison Wu, Lawrence Du, Scott Rifkin.

742B
Direct in vivo Cellular Reprogramming Involves Transition Through Discrete, Non-Pluripotent Steps. S. Zuryn, J. P. Richard, N. Fischer, V. Pavet, N. Vaucamps, S. Jarriault.


Development and Evolution: Cell death and neurodegeneration
---
743C
Genome wide RNAi screen to study uv1 cell necrosis. Awani Awani, Matt Crook, Wendy Hanna-Rose.

744A
Apoptosis-mediated toxicity of water stable carbon nanoparticles in Caenorhabditis elegans . Shin S. Choi, Yoon J. Cha.

745B
Exploring alternative means to induce axonal injury in C. elegans neurons. Sean Coakley, Massimo A. Hilliard.

746C
Neuron specific knock-down of smn-1 causes neuronal degeneration and death. I. Gallotta, P. Bazzicalupo, E. Di Schiavi.

747A
Elucidating the genetic and molecular mechanisms underlying smn-1 synaptic defects. M. Dimitriadi, G. Kalloo, A. C. Hart.

748B
vha-12, a catalytic subunit of the V-ATPase, is required for apoptotic corpse clearance. Glen Ernstrom, Robby Weimer, David Greenstein, Erik Jorgensen.

749C
Identification of modulators of RNA-dependent toxicity in Myotonic Dystrophy. Susana M. Garcia, Guinevere F. Lourenço, Gary B. Ruvkun.

750A
Growth cone guidance receptors modulate mitochondrial morphology and function via a secreted moiety of the VAPB/ALS8 protein, the major sperm protein domain. S. Han, H. Tsuda, Y. Yang, J. Vibbert, P. Cottee, C. Haueter, J. Prasain, H. J. Bellen, M. A. Miller.

751B
The Sp1 Family Transcription Factor SPTF-3 Promotes M4 Sister Cell Death through egl-1 Expression in the M4 Sister Cell. Takashi Hirose, Bob Horvitz.

752C
sli-1 Cbl Opposes the Engulfment of Apoptotic Cells. Michael E. Hurwitz, Courtney Anderson, Bob Horvitz.

753A
A Screen for Genes Involved in Engulfment-Dependent Cell Death. Holly L. Johnsen, H. R. Horvitz.

754B
In vitro and in vivo investigation of modulators of hyperactivated ion channel induced necrosis in C. elegans. Shaunak Kamat, Shrutika Yeola, Wenying Zhang, Monica Driscoll.

755C
Genetic Control of Neurodegeneration by an Evolutionary-conserved Heterotrimeric G Protein Signaling Pathway. Bwarenaba B. Kautu, Matthew L. Hicks, Adam J. Harrington, Kim A. Caldwell, Guy A. Caldwell.

756A
An MLL-type H3K4 methyltransferase complex is required for linker cell death. Maxime J. Kinet, Shai Shaham.

757B
Specific small heat shock proteins regulate calcium homeostasis in the medial Golgi to protect against necrotic cell death. Nikos Kourtis, Nektarios Tavernarakis.

758C
Starvation induces a global translational arrest that triggers germ cell apoptosis. Laura Láscarez, Carlos G. Silva-García, Tzvetanka D. Dinkova, Rosa E. Navarro.

759A
Secreted VAPB/ALS8 major sperm protein domains regulate mitochondrial fusion and fission machinery localization in body wall muscle. S. Lee, M. Miller.

760B
Controlling protease-driven lysosomal dependent "necrotic" cell death and beyond. Cliff J. Luke, Mark M. Miedel, Sangeeta R. Bhatia, Nathan J. Graf, Gary A. Silverman.

761C
The Role of Carbonic Anhydrase in Mediating Cell Stress Response following Neuronal Injury. T. A. Matthews, G. V. W. Johnson-Voll, K. W. Nehrke.

762A
Improved Alzheimer's Disease Model of Aβ1-42 toxicity. Gawain McColl, Blaine Roberts, Adam Gunn, Tara Pukala, Christine Roberts, Christopher Link, Robert Cherny, Ashley Bush.

763B
Utilization of alternative mRNA forms for CED-4/Apaf-1 during germ cell apoptosis. J. Kaitlin Morrison, Vince Contreras, Enhui Hao, Brett D. Keiper.

764C
Role of dynein light chain 1 in apoptosis: Using C. elegans as a model system. Tine H. Mřller, Anders Olsen.

765A
Identification and characterisation of genes essential for axonal maintenance. Brent Neumann, Massimo A. Hilliard.

766B
Effects of the Wlds mutation on axonal degeneration and regeneration in C. elegans neurons. Annika L. A. Nichols, Brent Neumann, Massimo A. Hilliard.

767C
Serotonergic blockade prevents age-related neurodegeneration in C. elegans model of Alzheimer's disease. Jonathan T. Pierce-Shimomura, Ashley Crisp.

768A
The localization of CED-9/Bcl2 and CED-4/Apaf-1 is not consistent with the accepted model for C. elegans apoptosis induction. Ehsan Pourkarimi, Sebastian Greiss, Anton Gartner.

769B
Characterizing an uncharacterized protein: F16A11.2, a neuroprotective gene product with a putative role in RNA localization. Arpita Ray, Susan M. DeLeon, Kim A. Caldwell, Guy A. Caldwell.

770C
Mild Frataxin suppression reduces fat accumulation, induces autophagy and protects from motility defects in C. elegans. Alfonso Schiavi, Alessandro Torgovnick, Evgenia Megalou, Nektarios Tavernarakis, Roberto Testi, Natascia Ventura.

771A
The RNA binding protein TIA-1.2 promotes stress-induced germ cell apoptosis and regulates granules assembly in the gonad core. Carlos Silva, Jorge Ramírez, Valerie Reinke, Rosa E. Navarro.

772B
gex Complex Genes Are Involved in the Engulfment of Apoptotic Cells. E. Simionato, M. E. Hurwitz.

773C
Establishing a RIP-seq method to study the role of RNA-binding proteins in germ cell apoptosis. Deni Subasic, Jochen Imig, Marko Jovanovic, Jonathan Hall, Andre Gerber, Michael Hengartner.

774A
Modulation of stroke-like neurodegeneration by cell stress-resistance signaling pathways. . Nazila Tehrani, John Del Rosario, Moises Domingues, Itzhak Mano.

775B
Clathrin-mediated endocytosis and intracellular trafficking are required for necrotic cell death in C. elegans. Kostoula Troulinaki, Nektarios Tavernarakis.

776C
Investigation of the neuroprotective role of GIPC in a C. elegans model of Parkinson's Disease. Michelle L. Tucci, Laura A. Berkowitz, Kim A. Caldwell, Guy A. Caldwell.

777A
Axonal Degeneration in C. elegans motor neurons: a model for Motor Neurone Disease. Nicholas J. Valmas, Ivan Cáceras, Hang Lu, Massimo A. Hilliard.

778B
Identification and characterization of molecular modulators of methylmercury-induced whole animal and dopamine neuron pathology in C. elegans. Natalia VanDuyn, Raja Settivari, Gary Sinclair, Richard Nass.

779C
The role of plastin in Spinal Muscular Atrophy. Melissa Walsh, Anne Hart.

780A
Caenorhabditis elegans O-GlcNAc cycling mutants alter the proteotoxicity of models of human neurodegenerative disorders. Peng Wang, Brooke Lazarus, Michele Forsythe, Dona Love, Michael Krause, John Hanover.

781B
Analysis of cellular toxicity mechanisms of alpha-synuclein in C. elegans. Nora Wender, Jan Hegermann, Stefan Eimer.

782C
Transgenic Caenorhabditis elegans expressing Alzheimer's pathway proteins to produce β-amyloid toxicity. Michael L. Wood, Anne Hart.

783A
Identification of genetic modifiers for amyloid-beta toxicity in a C. elegans Alzheimer's disease model. Xiaohui Yan, Adam Knight, Kim Caldwell, Guy Caldwell.

784B
Dysfunctional LRRK2/p38 signaling in response to ER stress leads to dopaminergic neurodegeneration. Y. Yuan, P. Cao, M. Smith, K. Kramp, Y. Huang, X. Zhu, S. Siedlak, N. Hisamoto, K. Matsumoto, M. Hatzoglou, H. Jin, Z. Feng.

785C
A genetic screen for modulators of apoptosis and engulfment in C. elegans. Sheng Zeng, Michael O. Hengartner.

786A
Role of Nrf2/SKN-1 dependent and ER stress proteins in C. elegans models of Parkinson's disease and manganism. Raja Settivari, Shaoyu Zhou, Natalia VanDuyn, Jennifer LeVora, Gary Sinclair, Richard Nass.


Development and Evolution: Development timing
---
787B
How do lin-28 and lin-46 regulate hbl-1? Jennifer Alaimo, Kevin Kemper, Bhaskar Vadla, Eric Moss.

788C
Deciphering the role of the tumour suppressor PAR-4/LKB-1 in cell cycle regulation and asymmetric cell division. Laura Benkemoun, Julien Burger, Nicolas Chartier, Lionel Pintard, Jean-Claude Labbé.

789A
Temporal regulation of rnt-1 in seam stem cell divisions by heterochronic let-7 family miRNAs. Rachael Nimmo, Toby Braun, Frank Slack, Alison Woollard.

790B
The mir-51 family of microRNAs antagonizes multiple microRNA-mediated developmental pathways. John L. Brenner, Benedict J. Kemp, Allison L. Abbott.

791C
Examining the kinetics of chromatin modifications associated with dosage compensation onset. Laura Custer, Györgyi Csankovszki.

792A
Function of AMPK during the L1 diapause in C.elegans. Emilie Demoinet, Julie Mantovani, Richard Roy.

793B
C. elegans body size is regulated by TGF-β signalling in multiple tissues. Aidan Dineen, Jeb Gaudet.

794C
A genome-wide RNAi screen for let-7 suppressors identifies novel players in the heterochronic pathway. Matyas Ecsedi, Magdalene Rausch, Helge Grosshans.

795A
Identification of heterochronic genes that suppress over-expression of mir-48, a let-7 family miRNA. Theresa L. B. Edelman, Tamar D. Resnick, Sarah Malmquist, Ann E. Rougvie.

796B
WNK-1 negatively regulates formation of diacylglycerol in C. elegans. Takashi Fukuzono, Kunihiro Matsumoto, Naoki Hisamoto.

797C
Heterochronic genes and Wnt pathway components regulate asymmetric division and cell fate of epidermal stem cells in C. elegans. Omid F. Harandi, Victor Ambros.

798A
The male tail tip heterochronic regulatory network. R. Antonio Herrera, Karin Kiontke, Matthew D. Nelson, Ji-Sup Yang, David H. A. Fitch.

799B
Mechanisms that maintain or re-establish VPC multipotency in dauer larvae. Xantha Karp, Iva Greenwald.

800C
Comparative transcriptomics in five Caenorhabditis species reveals a unique embryonic milestone. Michal Levin, Tamar Hashimshony, Itai Yanai.

801A
The C. elegans period homolog lin-42 regulates developmental timing and molting. Katherine A. McCulloch, Angela Barr, Ann E. Rougvie.

802B
ECM Dynamics in the Molting Cycle. Vijaykumar Meli, Alison Frand.

803C
Regulation and function of the let-7-related miRNA miR-48 in developmental timing. Tamar D. Resnick, Brittany Werre, Ann E. Rougvie.

804A
mir-237 is regulated by lin-14 and functions in early developmental timing. Mitchell A. Romens, Benedict J. Kemp, Allison L. Abbott.

805B
A recessive gene controls adaptation to a chemically defined medium in C. elegans. Liusuo Zhang, L. Rene Garcia.

1251A
The novel non-coding RNA lep-5 is a heterochronic regulator of male tail tip morphogenesis. Edward Vuong, Karin Kiontke, Antonio Herrera, Douglas Portman, David Fitch.


Development and Evolution: Germline and development and sex determination
---
806C
Translational control of cyclin B by PUF-8 and GLD-1 is essential for germ cell development. Priti Agarwal, Rana Mainpal, Kuppuswamy Subramaniam.

807A
Investigating the role of WEE-1.3 in C. elegans oocyte maturation. Anna K. Allen, Jessica E. Nesmith, Andy Golden.

808B
Phenotypic differences between deletion alleles of the histone demethylase rbr-2. Stacy Alvares, Ebony Joyner, Shawn Ahmed.

809C
The role of BEC-1 in germ line development in C. elegans. Kristina Ames, Alicia Meléndez.

810A
A comparative evolutionary model for the study of meiotic mechanisms. Joshua Bayes, Abby Dernburg.

811B
Identification and characterization of direct targets of the Caenorhabditis elegans global sexual regulator TRA-1 by chromatin immunoprecipitation. Matthew R. Berkseth, Kohta Ikegami, Jason D. Lieb, David Zarkower.

812C
The eIF4e-binding protein PQN-45 is required for P granule formation and sperm/oocyte switch. Madhu Sharma, Gregory M. Davis, Hyun-Min Kim, Monica P. Colaiacovo, Peter R. Boag.

813A
Implication of microRNA pathway in C. elegans germline biogenesis. Syed Irfan Ahmad Bukhari, Alejandro Vasquez-Rifo, Monique Zetka, Jean-Yves Masson, Martin J. Simard.

814B
Mutations that Interact with the Tip60 HAT Complex Can Suppress SHE-1. Xiangmei Chen, Yiqing Guo, Ronald Ellis.

815C
Loss of ALS-associated protein VAPB/ALS8 increases apoptosis in the germ line. P. Cottee, J. Vibbert, S. Han, M. Miller.

816A
The sexually dimorphic germline stem cell niche. Sarah Crittenden, Ipsita Mohanti, Dana Byrd, Karla Knobel, Judith Kimble.

817B
Caenorhabditis elegans' GLB-12 regulates germline apoptosis levels and vulval development. S. De Henau, L. Tilleman, D. Hoogewijs, L. Moens, S. Dewilde, J. R. Vanfleteren, B. P. Braeckman.

818C
PCH-2's Role in Regulating the Synapsis Checkpoint of Meiosis I in Caenorhabditis elegans. Alison J. Deshong, Needhi Bhalla.

819A
Characterization of new sex determination alleles in C. briggsae. Jill A. Dewar, Carlos Carvalho, Paul Stothard, David Pilgrim.

820B
Suppressor of fog-1(q253) rescues fertility in hermaphrodites but not in males. Kristin R. Douglas, Kimberly L. Butnik.

821C
Analysis of HIS-73, a Sperm Specific Histone H3 Variant, Uncovers a Link between Sperm Signaling and TGF-β Signaling. T. Matthew Edwards, Christopher Bean, William G. Kelly.

822A
mel-28 Genetic Interaction Screen Reveals Networks Underlying Germ-line Development in C. elegans. Anita G. Fernandez, Emily Mis, Neha Kaushik, Matthew Fasullo, Fabio Piano.

823B
IFE-1: A Key Regulator of Germ Cell Protein Synthesis. Andrew J. Friday, Jacob Subash, Melissa A. Henderson, Brett D. Keiper.

824C
PUF-8 is an Inhibitor of Germ Line Stem Cell Proliferation. Hilary E. Racher, Laura R. Gauthier, Dave D. Hansen.

825A
The MES proteins cooperate to influence gene expression patterns in the C. elegans germ line. Laura Gaydos, Andreas Rechtsteiner, Coleen Carroll, Wenchao Wang, Susan Strome.

826B
Phenotypic characterization of the tropical hermaphroditic species Caenorhabditis sp. 11. Clotilde Gimond, Nausicaa Poullet, Alessandra Mauri, Nicolas Callemeyn-Torre, Stephanie Grimbert, Paul Vigne, Celine Ferrari, Christian Braendle.

827C
The role of microtubules in regulating dynamic RNP granules in aging or stressed oocytes. Kevin T. Gorman, Tiffany Makowski, Jennifer Schisa.

828A
Loss of a nuclear hormone receptor unravels diet-dependent germline sterility. Xicotencatl Gracida, Christian R. Eckmann.

829B
Translational regulation and the control of meiotic maturation. Caroline Spike, Donna Coetzee, David Greenstein.

830C
A set of spermiogenesis inhibition genes identified by a suppressor screen of spe-27. Gizelle Hacopian, Ubaydah Nasri, Craig LaMunyon.

831A
Identifying mechanisms critical for sperm guidance to oocytes. Hieu D. Hoang, Johnathan W. Edmonds, J. Prasain, Michael A. Miller.

832B
Protein synthesis factor isoforms are selective for mRNAs that promote meiosis and differentiation in germ cells. Melissa A. Henderson, Vince Contreras, Anren Song, Sara Labella, Nadejda Korneeva, J. Kaitlin Morrison, Andrew J. Friday, Monique Zetka, Robert E. Rhoads, Brett D. Keiper.

833C
Elucidating genetic mechanisms by which somatic cAMP signaling regulates MSP-dependent oocyte meiotic maturation. Seongseop Kim, J. Amaranath Govindan, David Greenstein.

834A
VHA-19 is essential for trafficking of RME-2 in Caenorhabditis elegans oocytes and is important for the osmotic integrity of the embryo. Alison J. Knight, Lisa McEwan, Nicholas Johnson, Carolyn Behm.

835B
LET-363/TOR and RSKS-1/S6K promote proper germline development in C. elegans. Dorota Z. Korta, Simon Tuck, E. Jane Albert Hubbard.

836C
Sex-specific regulation of gonadal development in C. elegans. Mary B. Kroetz, W. Clay Spencer, Rebecca D. McWhirter, Matthew R. Berkseth, David M. Miller, III, David Zarkower.

837A
A model of germline population dynamics: in-silico analysis and in-vivo validation. Yaki Setty, Diana Dalfó, Dorota Z. Korta, E. Jane Albert Hubbard, Hillel Kugler.

838B
Comparative functional analysis of hSTIM1 and C. elegans STIM-1. Rashmi P. Kulkarni, Raphael Courjaret, Khaled Machaca.

839C
RFP-1, an E3 ubiquitin ligase, is involved in regulating the proliferation vs. differentiation decision in the C. elegans germline. Lindsay Leahul, Brendan Bakos, Dave Hansen.

840A
Development of a C. elegans Spermiogenesis and Sperm Function Protein Interaction Network. Matthew R. Marcello, Marina Druzhinina, Gunasekaran Singaravelu, Andrew Singson.

841B
Insulin, Notch, Cyclins and the Regulation of Germline Development. David Michaelson, E. Jane Albert Hubbard.

842C
Role of METT-10, a putative methyltransferase, in the proliferation vs meiosis decision. Ariz Mohd, Maia Dorsett, Tim Schedl.

843A
FOG-1 activates fog-3 expression. Dyan Morgan, Johan Jeong, Daniel Noble, Judith Kimble.

844B
RNA localization in the germline. Alexandre Paix, Geraldine Seydoux.

845C
Robustness and evolvability of sex determination pathway. Manish Parihar, Andre Pires da Silva.

846A
RNP granules: insights into their regulation and function. Joseph R. Patterson, Megan P. Wood, Jennifer A. Schisa.

847B
A novel role of the RNA helicase VBH-1 during stress. Daniel Paz-Gomez, Rosa E. Navarro.

848C
Evolution and phenotypic plasticity of the germline and reproductive system in Caenorhabditis nematodes. Nausicaa Poullet, Christian Braendle.

849A
Maintenance of adult proliferative germ cells. Zhao Qin, E. Jane Albert Hubbard.

850B
Mapping and Characterization of Caenorhabditis elegans Mutant Defective in Sperm Function. Sina Rahimi, Gunasekaran Singarevelu, Andrew Singson.

851C
glp-4 encodes the valyl amino-acyl tRNA synthetase VARS-2. Suchita Rastogi, Ben Borgo, Paul Fox, Nannette Pazdernik, Elaine Mardis, Yuji Kohara, Jim Havranek, Tim Schedl.

852A
A role for cardiolipin in the gonad development of Caenorhabditis elegans. Taro Sakamoto, Nagaharu Yokomori, Yukae Otomo, Motoki Ohno, Takao Ioue, Hiroyuki Arai, Yasuhito Nakagawa.

853B
The DEAD box RNA helicase Cr-VBH-1 is a constitutively P granule component in C. remanei germ cells and plays an important role on its germline function. Laura Silvia Salinas Velázquez, Ari Franco-Cea, Laura Lascarez-Lagunas, Ernesto Maldonado, Rosa E. Navarro.

854C
The tumour suppressor ING-3 regulates the DNA damage-induce apoptosis pathway in C. elegans. Sitar Shah, Jingjing Luo, JB Rattner, Karl Riabowol, Paul Mains.

855A
SPE-44 functions as an early transcription factor in spermatogenesis. Madhura Kulkarni, Katherine E. Guevel, Diane C. Shakes, Harold E. Smith.

856B
Regulation of Hermaphrodite Development by the F-box Protein SHE-1. Y. Shen, Ronald E. Ellis.

857C
Two likely GLP-1/Notch targets are essential for germline stem sell maintenance in both larvae and adults. Aaron M. Kershner, Heaji J. Shin, Judith Kimble.

858A
Regulation of the trafficking of TRP-3 channel by a novel protein during spermiogenesis in Caenorhabditis elegans. Gunasekaran Singaravelu, Indrani Chatterjee, Sina Rahimi, Marina Druzhinina, Andrew Singson.

859B
Chemically reprogramming the adult sperm/oocyte fate decision. Elena P. Sorokin, Clinton T. Morgan, Judith Kimble.

860C
A peroxiredoxin antioxidant enzyme regulates the timing of hermaphrodite spermatogenesis. Joanne Stamford, Christian Eckmann, Elizabeth Veal.

861A
A sperm competition mutant with defects in sperm motility. Daniela Chavez, Gillian Stanfield.

862B
Sperm-egg fusion generates a biphasic traveling calcium wave in C. elegans. J. Takayama, S. Onami.

863C
The conserved PAM-1 aminopeptidase somatically regulates pachytene progression. Chris Trzepacz, Craig Mello.

864A
Regulation of RAS/MAPK signaling by PUF-8 and GAP-3 is essential for meiotic progression. Samir Vaid, Mohd Ariz, Kuppuswamy Subramaniam.

865B
Detachment of the pharynx in lim-7(tm674) mutants occurs embryonically. Laura G. Vallier.

866C
Centriole elimination during C. elegans oogenesis. Lukas von Tobel, Tamara Mikeladze-Dvali, Pierre Gönczy.

867A
Identifying TEG-1 interacting proteins that are involved in germline development. Chris Wang, Dave Hansen.

868B
The PP2A phosphatase subunit PPTR-1 is required to stabilize embryonic P granules during mitosis. Jennifer T. Wang, Christopher M. Gallo, Geraldine Seydoux.

869C
Assembly of a Membrane-associated Complex Required for the Oocyte-to-embryo Transition. Yuemeng Wang, Geraldine Seydoux.

870A
The role of the protein kinase CHK-1 in early germ line development in C. elegans. Ashley B. Williams, W. Matthew Michael.

871B
GLD-1 binding marks specific mRNA targets for accumulation in oocytes. Claudia Scheckel, Dimos Gaidatzis, Jane E. Wright, Rafal Ciosk.

872C
Regulation of P granule stability via PGL proteins. M. Yonetani, M. Hanazawa, A. Sugimoto.

873A
Exploring the role of RNP granules in regulating RNA stability. Mark T. Zeigler, Breanna Rice, Jennifer Schisa.


Development and Evolution: Evolution
---
874B
N2-specific differences in behavior, growth, and physiology are explained by a laboratory-derived allele of npr-1. Erik C. Andersen, Raj Ghosh, Josh S. Bloom, Justin P. Gerke, Leonid Kruglyak.

875C
Exploring the mutational landscape of Caenorhabditis. Dee Denver, Larry Wilhelm, Peter Dolan, Dana Howe, K. Gafner, Charles Baer.

876A
Proximate and ultimate cumulative effects of temperature on spontaneous mutation in C. briggsae and C. elegans. Dejerianne Ostrow, Suzanna Lewis, Chikako Matsuba, Matthew Salomon, Laurence Sylvestre, Kerry Regan, Brandon Tabman, Ambuj Upadhyay, Charles F. Baer.

877B
Ray Pattern Variation in C. elegans: Mapping a Major-Effect QTL on LGV. Scott E. Baird, Daniel Bailey.

878C
A Bias Caused by Ectopic Development Creates Sexually Dimorphic Sperm In Nematodes. Christopher C. Baldi, Jeffrey Viviano, Ronald E. Ellis.

879A
Cryptic evolution of transcriptional regulation through changes in cis and trans. Antoine Barriere, Kacy Gordon, Ilya Ruvinsky.

880B
Evolution in viral sensitivity to the Orsay virus in natural C. elegans isolates. Tony Bélicard, Marie-Anne Félix.

881C
Stochastic influences on physiology and the outcomes of mutation in C. elegans. Maria O. Casanueva, Ben Lehner.

882A
Removal of selection pressure leads to convergent male behavior in Caenorhabditis. Audrey S. Chang, Matthew Rockman.

883B
Adaptation and effective recombination in C. elegans populations with standing variation. I. Chelo, H. Teotónio.

884C
Identification of ascr#1 as the female sex pheromone in the free-living nematode Panagrellus redivivus. A. Choe, A. T. Dossey, T. Chuman, R. Ajredini, D. Kogan, H. Alborn, F. Kaplan, H. Von Reuss, F. Schroeder, A. S. Edison, P. W. Sternberg.

885A
The evolution and genetics of speciation between C. briggsae and C. sp. 9. Asher D. Cutter, Joanna L. Kozlowska.

886B
Natural ecology of C. elegans in Germany. Philipp Dirksen, Fabian Peters, Wei Chen, Carola Petersen, Katja Dierking, Hinrich Schulenburg.

887C
Ecology of Caenorhabditis: sharing of natural habitats by different Caenorhabditis species. Marie-Anne Félix, Christian Braendle.

888A
Comparison of early embryogenesis in eight species of Protorhabditis. Hélčne Fradin, Karin Kiontke, David H. A. Fitch, Fabio Piano.

889B
Functional genomics of two Antarctic nematodes, Panagrolaimus davidi and Plectus murrayi. Hiroshi Kagoshima, Yuji Kohara.

890C
Natural variation of gonad independent vulva induction among Pristionchus pacificus isolates. Simone Kienle, Ralf J. Sommer.

891A
DPY-1 plays a conserved role in nematode cuticle formation. Sandrine Jacob, Christian Olendrowitz, Delphine Bernard, Joachim M. Muriel, Charlotte Kenning, Olivier Poupel, Jan Hagermann, Danny Tuckwell, Ralf Sommer, Stefan Eimer, Bernard Lakowski.

892B
Spontaneous and UV-induced mutations in a small region of the C. elegans genome, the ben-1 locus. Cecilia C. Mello, Andrew Fire.

893C
Comparative proteome analysis of Caenorhabditis elegans cultured at 2 different temperatures—20°C and 25°C. K. Monobe, Y. Ishido, A. Terasawa, Y. Tohsato, T. Hayano, M. Ito.

894A
Variations in sensitivity to external RNA interference in the Caenorhabditis genus. Isabelle Nuez, Marie-Anne Félix.

895B
Effect of Mutation Accumulation Environment on Environmental Variance in Fitness in Caenorhabitis. Rayshard Rogers, Charles Baer.

896C
Back to Nature: Defining the Microbiota of Wild C. elegans. Buck S. Samuel, Christian Braendle, Marie-Anne Félix, Gary Ruvkun.

897A
Experimental test of the consequences of host-parasite coevolution. Hinrich Schulenburg, Leila El Masri, David Laehnemann, Patrick Guenther, Nicolaas K. Michiels.

898B
Evolution of Sex-biased Expression in the Caenorhabditis genus. Cristel G. Thomas, Renhua Li, Ian Korf, Harold E. Smith, Brian Oliver, Eric S. Haag.

899C
Quantitative Proteomic Analysis of 3 Developmental Stages of Caenorhabditis briggsae by Using 2D DIGE and iTRAQ. A. Terasawa, Y. Tohsato, Y. Ishido, T. Hayano, M. Ito.

900A
Constructing and screening an RNAi Library in C.briggsae reveals evolution in phylogenetically young proteins and transcription factors. Adrian Verster, Arun Ramani, Sheldon Mckay, Felix Marie-Anne, Andew Fraser.

901B
Independent evolution of PP1 phosphatases for regulation of diverse sperm motility structures. Jui-ching Wu, Aiza Go, Susan Mirosoian, Mark Samson, Thais Cintra, Tammy Wu, Margaret Jow, Rodrigo Estrada, Eric Routman, Diana Chu.

902C
Establishing C. briggsae as a Model System for Speciation Research. Zhongying Zhao, Stephane Flibotte, Donald Moerman, Robert Waterston.


Gene Regulation and Genomics: Gene expression
---
903A
Screening for novel regulators of rnt-1 in stress response. Soungyub Ahn, Kiho Lee, Junho Lee.

904B
Identifying genes that interact with APL-1, a Protein Related to Human Amyloid Precursor Protein. Adanna G. Alexander, Chris Li.

905C
Microtubules and fertilization: The MEI-1/katanin mediated cytoskeletal transition from meiosis to mitosis in the developing embryo. Sarah M. Beard, Paul Mains.

906A
Identification of transcription start sites and novel transcripts in C. elegans. Ron Chen, Thomas Down, Julie Ahringer.

907B
Cis-regulating network in the ALA neuron. Elly S. Chow, Cheryl Van Buskirk, Paul Sternberg.

908C
Dissecting the role of ncbp-1/ncbp-2 in determining ray patterns in C. elegans males. JHT Wong, KL Chow.

909A
The nature of tbx-2 expression pattern in C. elegans male tail. KK Ip, KL Chow.

910B
Comparative genomics reveals novel regulatory mechanism for the transcription factor RFX/DAF-19 in C. elegans. Jeffrey S. C. Chu, Maja Tarailo-Graovac, Jun Wang, Bora Uyar, Domena Tu, Joanne Trinh, Bob Johnsen, David Baillie, Nansheng Chen.

911C
The dynamics of gene expression in early larval development. Shu Yi Chua, Hee Sun Shin, Jean Thierry-Mieg, Danielle Thierry-Mieg, David L. Baillie.

912A
Regulation of intestinal fasting induced transcription of nhr-206 is DAF-16/FOXO dependent. Ahmed Chughtai, Jan Novotny, Frantisek Behensky, Zdenek Kostrouch, Marta Kostrouchova.

913B
In vivo Regulation of the Alternative Splicing of the Pro- and Anti-Apoptotic Gene ced-4. Anna Corrionero, Bob Horvitz.

914C
Regulation of X chromosome transcription in Caenorhabditis species. Sarah Albritton, Sevinc Ercan.

915A
Chromosome-wide gene regulation and higher-order chromosome structure in C. elegans dosage compensation. C. A. Fassio, E. Crane, A. Michel, S. Uzawa, B. J. Meyer.

916B
HLH-17 affects dopamine signaling in C. elegans through the DOP-1, DOP-2 and DOP-3 receptors. Chaquettea M. Felton, Casonya Johnson.

917C
rsr-2, the ortholog of the human spliceosome component SRm300/SRRM2, regulates diverse developmental processes including germline sex determination. Laura Fontrodona, Tomás Morán, Montserrat Porta-de-la-Riva, Mňnica Díaz, David Aristizábal, Alberto Villanueva, Simó Schwartz Jr., Julián Cerón.

918A
The identification of the functional components of the male-specific CEM neurons. Lan Fu, Gus C. M. Chan, King L. Chow.

919B
Transcriptional regulation of pharyngeal gland sub-type expressed genes. Vikas Ghai, Jeb Gaudet.

920C
Characterization of specific gene programs regulated by Mediator subunit CDK-8. Jennifer M. Grants, Stefan Taubert.

921A
A new model of C. elegans embryogenesis with cell contacts and spatio-temporal gene expressions. Johan Henriksson, Jürgen Hench, Martin Lüppert, Akram Abou-Zied, David Baillie, Thomas R. Bürglin.

922B
Microarray analysis on laser-dissected tail tips identifies genes regulated by dmd-3 during male tail tip morphogenesis. R. Antonio Herrera, Karin Kiontke, D. Adam Mason, Ji-Sup Yang, David H. A. Fitch.

923C
Operon transcriptional complexity: dissection via recombineered fosmid-based reporters. Nisha Hirani, Stephen Sturzenbaum, Colin Dolphin.

924A
Temporal control of organogenesis by PHA-4/FoxA. Hui-Ting Hsu, Susan Mango.

925B
RNA polymerase III transcribes a defined subset of tRNAs and snoRNAs at the nuclear pore in C. elegans. Kohta Ikegami, Jason Lieb.

926C
Possible regulation of bed-3 by blmp-1. Takao Inoue.

927A
Searching for transcriptional regulators of C. elegans proteasome subunits. CongYu Jin, YueHong Yang, Akihiro Mori, Yuji Kohara, Xuan Li, Johan Dethlefsen, Johan Henriksson, Keith Blackwell, Thomas Bürglin, Carina I. Holmberg.

928B
The homeobox transcription factors, CEH-14 and TTX-1, regulate expression of gcy-8 and gcy-18 in C. elegans. Hiroshi Kagoshima, Yuji Kohara.

929C
Novel fat-reducing plant extracts as therapeutics in the treatment of obesity using a C. elegans model. Shail Kaushik, Harsh Bais.

930A
The affects of DNA sequence on chromatin architecture and gene expression. Colton E. Kempton, Elliot Winters, Benjamin Jorgensen, Steven M. Johnson.

931B
The overlapping roles of hlh-1 and unc-120 in bodywall muscle differentiation. Steven G. Kuntz, Brian Williams, Paul Sternberg, Barbara Wold.

932C
FOX-1 family and UNC-75 regulate neuron-specific alternative splicing of the unc-32 gene. Hidehito Kuroyanagi, Masatoshi Hagiwara.

933A
SMG-1 may possess dual mRNA surveillance functions . Luciana Leopold, Matt Eckler, Yan Liu, Channing Der, David Reiner, Shawn Ahmed.

934B
Regulation of calreticulin gene expression by sumoylation in C. elegance. Yun-Ki Lim, Sunkyung Lee, Joohong Ahnn, Do Han Kim.

935C
Identification of transcription factors regulating lin-39 expression. Wan-Ju Liu, David Eisenmann.

936A
Analysis of cell fate from single-cell gene expression profiles in C. elegans. Xiao Liu, Sarah Aerni, Fuhui Long, Hanchuan Peng, John Murray, Serafim Batzoglou, Robert Waterston, Gene Myers, Stuart Kim.

937B
Identification of evolutionary conserved regulators of dietary restriction using the "Ortho2ExpressMatrix". Andreas Ludewig, Thomas Meinel, Frank Doering.

938C
In vivo analysis of splicing factor genes in regulating alternative splicing in C. elegans. Yanling Teng, Xiaoyang Gao, Long Ma.

939A
Analysis of temporal expression data of C.elegans early embryo. T. Maeshiro, S. Nakayama, K. Monobe, M. Ito.

940B
Structure-function analysis of MDT-15, a conserved transcriptional co-regulator required for metabolic homeostasis. Allan Mah, Ada Kwong, Stefan Taubert.

941C
A 3'UTR clone library of the nematode C. elegans: a resource for 3'UTR biology. M. Mangone, J. M. Lucas, M. R. Gutwein, D. Mecenas, K. C. Gunsalus, F. Piano.

942A
Factors Affecting the Mean, Variance and Predictive Power of a Lifespan-Predicting Biomarker. Alexander R. Mendenhall, Pat Tedesco, James R. Cypser, Larry Taylor, Anita Lowe, Roger Brent, Thomas E. Johnson.

943B
GEI-8 is a transcription co-repressor orthologous to NCoR/SMRT with developmental functions in C. elegans. Pavol Mikolas, Frantisek Behensky, Vladimir Saudek, Michael Krause, Zdenek Kostrouch, Marta Kostrouchova.

944C
Biochemical characterization of canonical and variant C.elegans nucleosomes. Ahmad N. Nabhan, Margaret Jow, Diana Chu, Geeta Narlikar.

945A
AlkB8 (C14B1.10) regulates metabolism in C. elegans. Johana Nakielna, Petr Yilma, Vladimir Saudek, Marta Kostrouchova, Zdenek Kostrouch.

946B
Defining target genes of the transcriptional repressor protein CTBP-1. Hannah R. Nicholas, Surya Setiyaputra, Melinda S.-Y. Tan, Chu-Kong Liu, Aaron Lun, Sashi Kant, Merlin Crossley, Joel Mackay.

947C
Characterization of the aminophospholipid translocase TAT-1 and phosphatidylserine asymmetry in plasma membrane. Y. Niu, Q. Yuan, N. Xia, D. Xue.

948A
Single-blastomere transcriptome profiling reveals asymmetric segregation of maternal transcripts in the first embryonic division. Erin A. Osborne, Jason D. Lieb.

949B
Global and phenotype-specific suppressors of LIN-35/pRb synthetic phenotypes. Stanley R. Polley, David Fay.

950C
Functional characterization of swsn-2.1, a SWI/SNF component and genetic interactor of lin-35 Retinoblastoma. Iris Ertl, Montserrat Porta-de-la-Riva, Laura Fontrodona, Eva Gómez-Orte, Lucía Suárez-López, Verónica Dávalos, Simó Schwartz Jr., Juan Cabello, Julián Cerón.

951A
Oxygen-sensitive gene expression in C. elegans. Dingxia Feng, Jo A. Powell-Coffman.

952B
C. elegans TBX-2 is a SUMOylation dependent transcriptional repressor. Lynn Clary, Tom Ronan, Peter Okkema.

953C
Slimming Nematodes with Herbal Medicine: From pseudo-science to reality. Soudabeh Sahmeddini, Peter Hylands, Stephen Sturzenbaum.

954A
Regulation of gene expression by DBL-1/BMP. Jianghua Yin, Sushma Teegala, Edlira Yzeiraj, Cathy Savage-Dunn.

955B
Comparison of Dosage Compensation Between Caenorhabditis briggsae and Caenorhabditis elegans. Caitlin M. Schartner, Te-Wen Lo, Barbara J. Meyer.

956C
Carnosinase 1 (PES-9) and Carnosinase 2 (Y71H2AM.11) - two conserved dipeptidases are involved in regulation of embryonic development in C. elegans. Katerina Sebkova, Petr Yilma, David Kostrouch, Zdenek Kostrouch, Marta Kostrouchova.

957A
Characterizing the paternal RNA contribution of C. elegans sperm. M. Shorrock, T. Wu, D. S. Chu.

958B
Characterization of HRG-7, a novel protease involved in C. elegans heme homeostasis. Jason Sinclair, Iqbal Hamza.

959C
Transcriptional regulation of ciliary genes in C. elegans. J. Burghoorn, BP Piasecki, KE Jeppsson, F. Crona, S. Sahlin, P. Phirke, P. Swoboda.

960A
Asymmetric regulation of the homeobox gene ceh-5 in early embryogenesis of C. elegans. Lois Tang, Konstantin Cesnulevicius, Jürgen Hench, Daria Shlyueva, Akram Abou-Zied, Thomas Bürglin.

961B
An integrated view of the organization of transcription factor binding sites in the C. elegans genome. Florian Wagner, Itai Yanai.

962C
scla-1 Encodes a Nonreceptor Tyrosine Kinase Required for Antipsychotic Drug-induced Developmental Delay and Lethality in C. elegans. X. Wang, L. M. Hao, B. M. Cohen, E. A. Buttner.

963A
Linking dosage compensation complex binding to chromosome-wide gene regulation in C. elegans. Bayly Wheeler, Barbara Meyer.

964B
The REF-1 Protein, HLH-29, Functions in the Somatic Gonad of Wild-Type C. elegans. Ana M. White, Casonya Johnson.

965C
Promoter Analysis of the GATA type transcription factor elt-2. Tobias Wiesenfahrt, Janette Berg, James McGhee.

966A
Identification and characterization of protein phosphatases that regulate TGFβ signaling in C. elegan. S. Xiong, C. Savage-Dunn.

967B
Repression of transgene expression by the Q/P-rich nuclear protein PQE-1. Koji Yamada, Jun-ichi Tsuchiya, Yuichi Iino.

968C
Identification of critical neurons for APL-1 expression in C. elegans. Pei Zhao, Collin Ewald, Chris Li.

969A
Identifying Regulatory Elements Controlling Spatial And Temporal Expression of hlh-29 in C. elegans. Huihui Zhu, Casonya Johnson.


Gene Regulation and Genomics: RNA interference and small RNAs
---
970B
Multi-platform sequencing identifies novel mirtron with an embryonic lethal phenotype in Caenorhabditis elegans. Rina Ahmed, Funda Sar, Zisong Chang, Kristin Gunsalus, Erik Miska, Christoph Dieterich.

971C
RNA-binding Protein GLD-1 Genetically Interacts with Multiple miRNA Pathways in C. elegans. Alper Akay, Ashley Craig, Nicolas Lehrbach, Gyorgy Hutvagner, Eric Miska, Anton Gartner.

972A
Rab-7 can modulate microRNA activity in C. elegans. Zhiji Ren, Victor R. Ambros.

973B
RNAi-promoting Zinc Finger Protein, ZFP-1, is an essential factor required for chromatin integrity in C. elegans. Daphne Anastasiades, Germano Cecere, Morten Jensen, Jason Lieb, Alla Grishok.

974C
In situ hybridization analysis of let-7 microRNA. Yoshiki Andachi, Yuji Kohara.

975A
rde-4 is epistatic to rde-4. Stephen A. Banse, Craig P. Hunter.

976B
A function for mir-34 in gonad morphogenesis. Samantha Burke, Molly Hammell, Victor Ambros.

977C
A Conserved Motif Affecting Nucleosome Occupancy is Required for 21U-RNA Production in C. elegans. Germano Cecere, Grace Zheng, Katherine Klymko, Andres Mansisidor, Alla Grishok.

978A
RACK-1 acts in let-7-mediated heterochronic development of Caenorhabditis elegans. Shih-Peng Chan, Frank Slack.

979B
A Genome-wide analysis of genetic interactions in early embryogenesis in C. elegans. P. G. Cipriani, E. Munarriz, A. White, HL. Kao, J. Young, K. Erickson, S. Guzman, J. Lucas, K. C. Gunsalus, F. Piano.

980C
Yeast One-Hybrid Screen to Identify Factors Required for piRNA Biogenesis in C. elegans. Amanda Day, John Kim.

981A
Cel-bantam miRNA family regulates TGF-β Sma/Mab pathway. María Pilar de Lucas, Encarnación Lozano.

982B
Germline expression, inheritance, and genomic characteristics of Caenorhabditis elegans 21U-RNAs. Mallory Freeberg, John Kim.

983C
Single-worm RNA-seq as a tool for following epigenetic silencing. Weifeng Gu, Ahmed Ahmed Elewa, Craig Mello.

984A
Nuclear RNAi mediates off-target gene silencing. Shouhong Guang, Kirk Burkhart, Virginia Lamb, Scott Kennedy.

985B
Casein kinase 2 (KIN-3/KIN-10) regulates microRNA activity in C. elegans. Ting Han, Vishal Khivansara, James Moresco, John Yates, John Kim.

986C
Regulation of mir-34 expression by insulin signaling pathway in C. elegans. M. Isik, E. Berezikov.

987A
miRNA regulation of stress responses. Konstantinos Kagias, Roger Pocock.

988B
Variable Replication of a Flock House Virus Transgene in Caenorhabditis Natural Isolates. EE Large, G. Broitman-Maduro, SW Ding, M. Maduro.

989C
Genetic identification of post-transcriptional modulators of microRNAs. Katherine McJunkin, Victor Ambros.

990A
Analysis of miR-35 stablity at the embryo-larval transition in C. elegans. Kenneth J. Murfitt, Javier Armisen-Garrido, Nicholas J. Lehrbach, Eric A. Miska.

991B
Characterization of Transposon Silencing Pathways. Carolyn M. Phillips, Gary B. Ruvkun.

992C
TDP-1, the C. elegans ortholog of ALS-associated protein TDP-43, modulates RNA editing and RNAi. Tassa K. Saldi, Christine M. Roberts, Peter E. A. Ash, Leonard Petrucelli, Christopher D. Link.

993A
RNAi screen to identify new genes and pathways regulating PKD-2 ciliary localization and function. Bahareh Shanehsaz, Cory Patrick, Juan Wang, Maureen Barr.

994B
The mevalonate pathway has a role in microRNA repression of target genes. Zhen Shi, Gary Ruvkun.

995C
Sensitized Backgrounds Reveal Critical Roles for microRNA Families. Elizabeth J. Thatcher, Victor Ambros.

996A
Piwi proteins and piRNAs: targets, targeting requirements and pathway analysis. E.-M. Weick, L. D. Goldstein, M. P. Bagijn, A. Sapetschnig, E. A. Miska.

997B
Repression of germline RNAi pathways in somatic cells by multiple synMuv B chromatin complexes. Xiaoyun Wu, Zhen Shi, Mingxue Cui, Min Han, Gary Ruvkun.

998C
The RDE-10/RDE-11 complex is required for RNAi-induced mRNA turnover in C. elegans. Huan Yang, Ho Yi Mak.

999A
A Role for Systemic RNAi in antiviral defense in C. elegans. Jing Zhong, Gao Zhihuan, Morris Maduro, Ding Shou-wei.

1000B
An integrated approach for in vivo miRNA regulation studies in C. elegans. Ilyass Zniber, Marie Bothorel, Léo Guignard, Denis Dupuy.


Gene Regulation and Genomics: Genomics
---
1001C
Towards a unique gateway for predicting genetic interactions in C. elegans. Benjamin Boucher, Anna Y. Lee, Michael Hallett, Sarah Jenna.

1002A
Essentially C. elegans: A step towards defining the Essentialome of the Worm. Jeffrey S. C. Chu, Bob Johnsen, Domena Tu, Steven Jones, Marco Marra, David Baillie, Ann Rose.

1003B
WormBase Gene Sets and Sequence Curation -. Paul Davis, Tamberlyn Bieri, Kevin Howe, William Nash, Philip Ozersky, Gary Williams, John Spieth, The WormBase Consortium.

1004C
Building better gene and orthology predictions across ten Caenorhabditis genomes. Olivia Gardner, Ana Rodrigues, Yufeng Zhai, Gerard Manning.

1005A
Investigating the roles of a worm HP1 homolog during embryogenesis. Jacob Garrigues, Thea Egelhofer, Susan Strome.

1006B
Identification of new DNA targets of nuclear envelope proteins in C. elegans using the DamID technique. Cristina Gonzalez-Aguilera, Peter Askjaer.

1007C
Links between histone modifications and splicing. Moritz S. Herrmann, Paulina Kolasinska-Zwierz, Julie Ahringer.

1008A
Quantitative epistasis map of genes regulating sex ratio. Marta K. Labocha, Wenshan Luo, Boanerges Aleman-Meza, Weiwei Zhong.

1009B
A transcription factor specific RNAi screen to identify regulators of intestinal gene expression. Lesley T. MacNeil, H. Efsun Arda, A. J. Marian Walhout.

1010C
Characterization of the Transcriptome in L1 Arrest and Recovery with High Throughput Sequencing. Colin Maxwell, Igor Antoshechkin, Nicole Kurhanewicz, Jason Belsky, Ryan Baugh.

1011A
Analysis of mutation patterns in C. elegans strains with DNA repair deficiencies. Bettina Meier, Peter Campbell, Anton Gartner.

1012B
Estimation of gene regulatory networks of C.elegans early embryo. A. Okano, K. Monobe, S. Nakayama, M. Ito, T. Maeshiro.

1013C
Uncovering cryptic genetic variation for C. elegans embryogenesis. Annalise Paaby, Amelia White, Kris Gunsalus, Fabio Piano, Matt Rockman.

1014A
Unique mono-nucleosome occupancy on the Caenorhabditis sex chromosome. Christine G. Preston, Yvonne Fondufe-Mittendorf, Jonathan Widom, Barbara J. Meyer.

1015B
Whole-genome analysis of alternative splicing in C. elegans. Arun Ramani, John Calarco, Qun Pan, Sepand Mavandadi, Ying Wang, Andrew Nelson, Leo Lee, Quaid Morris, Benjamin Blencowe, Mei Zhen, Andrew Fraser.

1016C
The C. elegans transcriptome. Valerie Reinke, Brent Ewing, Mark Gerstein, Phil Green, S. Henz, Amber High, LaDeana Hillier, Masaomi Kato, J. Leng, Michael MacCoss, Gennifer Merrihew, David M. Miller, III, Gunnar Ratsch, Rebecca Robilotto, Frank J. Slack, W. Clay Spencer, Pnina Strasbourger, Owen Thompson, Guilin Wang, Georg Zeller, Robert H. Waterston.

1017A
Evolution of a Transcriptional Program: Tracking the Heat Shock Response Across Phyla. Ana P. Rodrigues, Gerard Manning.

1018B
Wormfood Genomics: E. Coli Determinants of C. elegans' Fitness. Buck S. Samuel, Tim Durfee, Holli Rowedder, Chris Carr, Justine Melo, Jeremy Glasner, Sean Sykes, Sarah Young, Carsten Russ, Guy Plunkett, Chad Nusbaum, Gary Ruvkun.

1019C
An alternative analysis pipeline for mutation identification by next-generation sequencing. Harold E. Smith, Michael W. Krause.

1020A
High Occupancy Target (HOT) regions in C. elegans. Eric Van Nostrand, Stuart Kim, C. elegans modENCODE consortium.

1021B
Loss-of-Function genomic variations in wild Caenorhabditis elegans. Ismael A. Vergara, Maja Tarailo-Graovac, Jun Wang, Nansheng Chen.

1022C
A systematic examination of the effects of natural variation on perturbed phenotypes in Caenorhabditis Elegans. Victoria Vu, Arun Ramani, Tungalag Chuluunbaatar, Hong Na, Andrew Fraser.


Cell Biology: Cell polarity and the intracellular trafficking
---
1023A
Tissue-specific identification of polarity protein complexes. Selma Waaijers, Javier Muńoz, Albert Heck, Mike Boxem.

1024B
Sperm Mitochondria are Associated with Ubiquitinated Vesicles After Fertilization. Connie Hajjar, Andy Golden, Lynn Boyd.

1025C
Isolation of novel molecules that regulate specialized ciliary morphologies. Andrea Brear, Alexander van der Linden, Piali Sengupta.

1026A
Identification of novel proteins involved in the regulation of IFT. Joost Broekhuis, Weng Yee Leong, Gert Jansen.

1027B
The GMAP210 homologue SQL-1 modulates Intraflagellar Transport in C. elegans. Suzanne Rademakers, Joost Broekhuis, Martijn Dekkers, Jan Burghoorn, Gert Jansen.

1028C
EXC Proteins Regulate Early Endosome Trafficking to Maintain Apical Surface in Narrow Tubules of C. elegans. Brendan Mattingly, Kelly Grussendorf, Elinor Brown, Matthew Buechner.

1029A
Identification of RhoGEFs that activate CDC-42 during radial polarization of the early C. elegans embryo. Emily Chan, Jeremy Nance.

1030B
Functional Analysis of the AP-3 Clathrin-associated Adaptor Complex in Caenorhabditis elegans. Carlos Chih-Hsiung Chen, Anbing Shi, Donglei Zhang, Zhiyong Bai, Peter J. Schweinsberg, Lucy Mingchih Lee, Barth D. Grant, Christopher Rongo.

1031C
JIP3/UNC-16 has an UNC-101 dependent role in synaptic vesicle biogenesis. Bikash C. Choudhary, Jitendra Kumar, Takashi Fukuzono, Li Chun, Kunihiro Matsumoto, Naoki Hisamoto, Sandhya P. Koushika.

1032A
The Role of Intracellular Trafficking in Modulating Ciliary Structure and Function in C. elegans. David B. Doroquez, Anique Olivier-Mason, Ali Sarkeshik, John R. Yates III, Piali Sengupta.

1033B
Isolation and Characterization of tat-1 suppressors. Xin Li, Hongwei Du, Baohui Chen, Xiaochen Wang.

1034C
qx42 affects lysosome function and embryonic development in C. elegans. Bin Liu, Hongwei Du, Xiaochen Wang.

1035A
An in vivo screen of localization and trafficking regulators of LET-23 EGFR. Juan M. Escobar Restrepo, Christina J. Herrmann, Langouet M., Hajnal A.

1036B
PAR proteins regulate the localization of LET-99 during asymmetric division. Jui-Ching Wu, Eugenel B. Espiritu, Lesilee S. Rose.

1037C
Intracellular trafficking of the type I and type II TGFβ receptors, SMA-6 and DAF-4, in C. elegans. Ryan Gleason, Adenrele Akintobi, Barth Grant, Richard Padgett.

1038A
The EXC-1 GTPase Is Required for Maintenance of Tubule Shape in the Excretory Canals. Kelly Grussendorf, Amanda Riss, Matthew Buechner.

1039B
Molecular characterization of TGF-β regulation by multiple intracellular vesicle trafficking processes in C. elegans. Katherine Beifuss, Tina Gumienny.

1040C
Regulation of the RAB-2 GTPase involved in Dense-Core Vesicle Maturation. Mandy Hannemann, Stefan Eimer.

1041A
Investigating the function of the GLO-1 Rab GTPase in lysosome-related organelle biogenesis. Hannah Somhegyi, Thomas Curtin, Brian King, Travis Walton, Greg J. Hermann.

1042B
GLO-2 is a nematode specific factor functioning in gut granule biogenesis. Daniel Saxton, Emily Scavarda, Allison M. Weis, Becca Salesky, Laura Thomas, Kaila Warren, Alec Barret, Greg J. Hermann.

1043C
Zygotic expression of par-1 suggests multiple functions. Daryl D. Hurd.

1044A
Intracellular PLA1 and acyltransferase, which are involved in C. elegans stem cell divisions, determine the sn-1 fatty acyl chain of phosphatidylinositol. Rieko Imae, Takao Inoue, Masako Kimura, Eriko Kage-Nakadai, Shohei Mitani, Hiroyuki Arai.

1045B
Possible role of pak-1/Pak and ced-10/Rac in Wnt/Ror signaling. Kah Yee Goh, Natalie Ng, Thilo Hagen, Takao Inoue.

1046C
Characterization of the exocyst in C. elegans. Yaming Jiu, Jussi Jäntti.

1047A
Physiological roles of ESCRT complexes in Caenorhabditis elegans. Dong-Wan Kim, Hyun Sung, Donghyuk Shin, Haihong Shen, Joohong Ahnn, Sun-Kyung Lee, Sangho Lee.

1048B
Centrosome centration is driven by dynein-dependent movement of intracellular organelles along astral microtubules in C. elegans early embryos. Kenji Kimura, Akatsuki Kimura.

1049C
Tubulin polyglutamylation in the sensory cilia is flexibly regulated in response to the environmental stresses. Y. Kimura, O. I. Kaplan, S. Hameed, H. Kunitomo, Y. Iino, O. E. Blacque, M. Setou.

1050A
Centrosome positioning and the establishment of the anterior-posterior axis in the one-cell embryo. Zachary Klock, Jessica Meeker, Margaret Williams, Liza Agayeva, George Pellegrino, Eva Jaeger, Rebecca Lyczak.

1051B
Identifying mechanisms of contact-mediated cell polarization. Diana Klompstra, Dorian Anderson, Jeremy Nance.

1052C
Dissection of the LATS kinase pathway in C. elegans. Hanee Lee, Junsu Kang, Junho Lee.

1053A
SUMOylation of ARL-13 regulates ciliogenesis and cilia sensory function. Yujie Li, Jinghua Hu.

1054B
Coordination of Arls in cilia. Yujie Li, Qing Wei, Yuxia Zhang, Jinghua Hu.

1055C
Tracing Endocytosis in the Nematode Gut. Willisa Liou, Barth Grant, Ayesha Hossain, David Hall.

1056A
Identification of novel factors antagonizing endocytic organelle fusion in C. elegans. Kai Liu, Zhiyang Gao, Xiaojuan Sun.

1057B
Identification of a New Gene Required for the Proper Localization of PKD-2 to Cilia. Julie Maguire, Maureen Barr.

1058C
Putative De-ubiquitylating Enzymes MATH-33 and USP-47 are Required for Polarity Establishment in C. elegans. Richard J. McCloskey, Kenneth Kemphues.

1059A
FGF signaling cooperates with WNT signaling in C. elegans vulval cell lineage polarity. Paul Minor, Anand Asthagiri, Paul Sternberg.

1060B
C.elegans rootletin homolog, che-10, is required for intraflagellar transport and cilia maintenance. Swetha Mohan, Michel Leroux.

1061C
Immunoglobulin domain containing isoforms of UNC-89 (obscurin) are required for myofilament organization and calcium signaling in Caenorhabditis elegans. Patrick Spooner, M. Berenice Duran, Jennifer Bonner, Guy Benian, Kenneth Norman.

1062A
Role of the cullin CUL-5 in the regulation of polarity and asymmetric division. Anne Pacquelet, Grégoire Michaux.

1063B
Molecular and genetic characterization of suppressor of bec-1 lethality (sub) mutants. Nicholas J. Palmisano, Alicia Meléndez.

1064C
Arp2/3 dependent branched actin regulates intracellular trafficking to maintain apical junctions. Falshruti B. Patel, Yelena Bernadskaya, Martha Soto.

1065A
Identification and characterization of novel Wnt signaling pathway components. Woon Cheng Poh, Yanqing Shen, Takao Inoue.

1066B
Endocytic regulation of LET-23 EGFR signaling during vulva induction. Olga Skorobogata, Christian E. Rocheleau.

1067C
Novel players of cell polarity and asymmetric cell division in C. elegans identified through analysis of a polarity genetic network. Josana Rodriguez, Bruno Fievet, Julie Ahringer.

1068A
Characterizing the adrenomedullin homologue in C. elegans. Beatriz Sáenz-Narciso, Eva Gómez-Orte, Alfredo Martínez, Juan Cabello.

1069B
Dynein-dependent microtubule sliding is not sufficient for anaphase spindle-pulling force in the C. elegans embryo. Eva Gusnowksi, Martin Srayko.

1070C
Spindle asymmetry produced by Wnt signaling regulates asymmetric nuclear localization of β-catenin. Kenji Sugioka, Kota Mizumoto, Hitoshi Sawa.

1071A
Identification of SORF-1 (suppressor of organelle fusion) as a negative regulator of endocytic organelle fusion in C.elegans. Xiaojuan Sun, Zhiyang Gao, Jing Xu, Yudong Jing, Xuezhao Liu, Hui Xiao, Chonglin Yang.

1072B
Arf GTPases antagonize the Frizzled/Planar cell polarity pathway to regulate the asymmetric cell division of the Q.p neuroblast. Jerome Teuliere, Aakanksha Singhvi, Shaun Cordes, Karla Talavera, Gian Garriga.

1073C
Sensory input modulates ciliary receptor localization and IFT activity. Juan Wang, Natalia Morsci, Maureen Barr.

1074A
Regulation of Rab GTPase-mediated endosomal trafficking by TBC-2. Xiaolin A. Wang, Farhad Karbassi, Marc-André Sylvain, Krittika Bhende, Anna Chavlovski, Christian E. Rocheleau.

1075B
The BBSome regulates IFT particles turn-around at cilia tip. Qing Wei, Yuxia Zhang, Yujie Li, Jinghua Hu.

1076C
A novel basal body protein DYF-17 controls the ciliary entry of DYF-11 and IFT assembly. Qing Wei, Jinghua Hu.

1077A
Unraveling the VAP MSP secretion mechanism. Jessica L. Winek, Michael Miller.

1078B
Cis- and trans-regulatory mechanisms of ciliary targeting in a subset of chemosensory neurons in C. elegans. Martin Wojtyniak, Piali Sengupta.

1079C
LET-99, a novel G protein regulator for asymmetric division. Dae Hwi Park, Anna Ye, Lesilee S. Rose.

1080A
RAB-6 and the Retromer Complex Regulate Glutamate Receptor Recycling Through A Retrograde Transport Pathway. Donglei Zhang, Nora R. Isack, Doreen R. Glodowski, Barth D. Grant, Christopher Rongo.

1081B
qx193 affects lysosome dynamics and motility in C. elegans. Wei Zou, Baohui Chen, Bin Liu, Xiaochen Wang.


Cell Biology: Morphogenesis, migration, cytoskeleton
---
1082C
In vivo analysis of epithelial cell polarization. Stephen Armenti, Jeremy Nance.

1083A
Two parts of Caenorhabditis elegans glypican LON-2 negatively regulate a BMP-like pathway and require membrane proximity. S. Bageshwar, T. Gumienny.

1084B
CPNA-1, a novel copine domain containing protein, links the integrin associated protein PAT-6 (Actopaxin) to the giant protein UNC-89 (obscurin) in C. elegans muscle. Ge Xiong, Adam D. Warner, Hiroshi Qadota, Donald G. Moerman, Guy M. Benian.

1085C
The giant protein UNC-89 (obscurin) interacts with CUL-1: implications for ubiquitin mediated protein degradation in muscle. M. Berenice Duran, Hiroshi Qadota, Kristy J. Wilson, Guy M. Benian.

1086A
Morphogenesis of the C. elegans intestine depends on the ability of Arp2/3 to promote membrane association of apical proteins. Yelena B. Bernadskaya, Falshruti Patel, Hiao-Ting Hsu, Martha Soto.

1087B
Control of Distal Tip Cell Migration in C. elegans through the Interaction of Dishevelled Proteins and CACN-1. Lauren Byrnes, Melissa LaBonty, Erin Cram.

1088C
TOCA-1 and actin polymerization contribute to P-cell nuclear migration. Yu-Tai Chang, Daniel A. Starr.

1089A
The Anal Depressor Undergoes Morphological and Functional Changes during Caenorhabditis elegans Male Development. Xin Chen.

1090B
An E-Cadherin-mediated hitchhiking mechanism for C. elegans germ cell internalization during gastrulation. Daisuke Chihara, Jeremy Nance.

1091C
The minus-end actin capping protein, TMD-1/tropomodulin, regulates the morphology of the intestine and excretory cell. Corey Hoffman, Clarence Ling, Gary Mantione, Nicole Vissichelli, Vincent Cannataro, Thomas Gallagher, Elisabeth (Abbi) Cox.

1092A
Roles for anillin (ani-1) in regulating cell shape changes during C. elegans embryogenesis. Nellie Fotopoulos, Neetha Makil, Yun Chen, Alisa Piekny.

1093B
Isolation, characterization, and whole genome sequencing of a mutant defective for the pharyngeal g1a gland sub-type. Vikas Ghai, Stephane Flibotte, Jeb Gaudet.

1094C
Investigations into the collective movement of substrate neurons and epidermis during ventral enclosure. Claudiu Giurumescu, Andrew Chisholm.

1095A
Searching for interactors and substrates of the PXN-2 extracellular matrix peroxidasin. Jennifer R. Gotenstein, Andrew D. Chisholm.

1096B
Mechanisms Involved in Regulating the Activity and Localization of a Microtubule-depolymerizing Kinesin in the One-cell Stage C. elegans Embryo. X. Han, K. Cheung, M. Srayko.

1097C
DPY-24 regulates the timing of DTC dorsal turn. Tsai-Fang Huang, Chun-Yi Cho, Jheng-Wei Huang, Yi-Chun Wu.

1098A
A C.elegans pathology model of Leucine-rich repeat kinase 2 (LRRK2). Xu Huang, Enrico Schmidt, Ralf Baumeister.

1099B
The C.elegans spectraplakin VAB-10 regulates nuclear migration by linking actin and microtubule cytoskeleton in the gonadal distal tip cells. H.-S. Kim, R. Murakami, S. Quintin, M. Mori, K. Tamai, K. Ohkura, M. Labouesse, H. Sakamoto, K. Nishiwaki.

1100C
Investigating the role of CACN-1 in the Canonical Wnt Signaling Pathway. Melissa LaBonty, Mouna Ibourk, Erin Cram.

1101A
The F-Bar and Rho GTPase-activating protein RGA-7 controls CDC-42 activity during embryonic elongation in Caenorhabditis elegans. Germain Lacoste-Caron, Sarah Jenna, Emmanuel Martin.

1102B
A genetic screen to elucidate the role of a PP2A phosphatase required for mitotic spindle assembly. Karen I. Lange, Martin Srayko.

1103C
An enhancer screen to identify genes that function with UNC-6/UNC-40 (netrin) to promote anchor cell invasion. Lauren R. Lilley, Quiyi Chi, David R. Sherwood.

1104A
Molecular characterization of the C. elegans anillin isoforms. Michael Loloyan, Alisa Piekny.

1105B
The roles of rhgf-2/Rho GEF and fhod-1/formin in regulating the actin cytoskeleton during embryonic elongation. Simon K. Rocheleau, Christopher A. Vanneste, Eko Raharjo, Robert Steven, David Pruyne, Paul E. Mains.

1106C
Extracellular leucine-rich repeat proteins and maintenance of epithelial integrity. Vincent P. Mancuso, Jean Parry, Luke Storer, Corey Poggioli, David Hall, Meera Sundaram.

1107A
The PCP pathway components vang-1 and prkl-1 are required for the Wnt dependent migration of the Q neuroblasts descendants. Remco A. Mentink, Hendrik C. Korswagen.

1108B
madd-2 regulates anchor cell invasion. Matthias Morf, Ivo Rimann, Stefanie Nusser, Mariam Alexander, Peter Roy, Alex Hajnal.

1109C
Infection-induced plasticity of hindgut development. Frederick A. Partridge, Jonathan Hodgkin.

1110A
A possible role for TRY-2/plasminogen during C. elegans embryonic development. Melissa Ponce, Austin Howard, Saeideh Sarraf-Mamouri, Martin Hudson.

1111B
The C. elegans Hailey-Hailey disease homolog pmr-1 is essential for embryonic development. Vida Praitis, Adityarup Chakravorty, Charlotte Feddersen, Dae Gon Ha, Leah Imlay, Sarah Kniss, Walter Liszewski, Michael Miller, Juliet Mushi, Angela Schacht, Tyson Stock, Alexander Sullivan-Wilson, Zelealem Yilma, Lensa Yohannes, Jeffrey Simske.

1112C
PAT-4 (ILK) regulates the binding of UNC-112 (Kindlin) to PAT-3 (β-integrin) in C. elegans. Hiroshi Qadota, Donald G. Moerman, Guy M. Benian.

1113A
Microtubules in embryonic morphogenesis. Sophie Quintin, Ambre Bender, Michel Labouesse.

1114B
Somatic gonad precursor migration in C. elegans. Monica R. Rohrschneider, Jeremy Nance.

1115C
The role of extracellular ZP-domain protein DYF-7 in body size development. Robbie D. Schultz, Tina L. Gumienny.

1116A
UNC-83 and UNC-84 bridge the nuclear envelope to move nuclei. Daniel A. Starr, Erin Tapley, Heidi Fridolfosson, Marina Meyerzon, Nina Ly.

1117B
The Rac-GEF UNC-73/TRIO Mediates Multiple and Genetically Distinct Pathways to regulate excretory cell migration. Nancy Marcus, Eve Stringham.

1118C
The Nm23-H1/H2 homologue NDK-1 activates Ras/MAPK signaling interacting with kinase scaffold of Ras during vulval development in C. elegans. Krisztina Takacs-Vellai, Neda Masoudi, Luca Fancsalszky, Ehsan Pourkarimi, Tibor Vellai, Anton Gartner, Anita Alexa, Attila Remenyi, Anil Mehta.

1119A
Mutations Affecting Cessation of Gonadal Leader Cell Migration in C. elegans. Kikuchi Tetsuhiro, Shibata Yukimasa, Nishiwaki Kiyoji.

1120B
GSK-3 Regulates Left/Right Symmetry Breaking. Michael G. Tiongson, Christian Pohl, Zhirong Bao.

1121C
Caenorhabditis elegans RHGF-2 is an essential RHO-1 specific RhoGEF that binds to the multi-PDZ domain scaffold protein MPZ-1. Thuy Tran, Li Lin, Shuang Hu, Todd Cramer, Vera Hapiak, Richard Komuniecki, Robert Steven.

1122A
SUMO proteases in C. elegans. A. Tsur, L. Broday.

1123B
VAB-3 and VAB-5 are involved in mediating embryonic anterior muscle development. Ryan D. Viveiros, Robert Barstead, Donald G. Moerman.

1124C
Analysis of UNC-6/netrin's effectors during C. elegans anchor cell invasion. Zheng Wang, David Sherwood.

1125A
Screening for essential muscle genes and synthetic lethality using high-throughput RNAi. Adam D. Warner, Teresa Rogalski, Aruna Somasiri, Iasha Chaudhry, Donald G. Moerman.

1126B
Essential Functions of IFA-2 Domains in C. elegans Fibrous Organelles. Kyle C. Williams, John Plenefisch.

1127C
Novel regulation of the CUL-3/MEL-26 protein degradation pathway by the giant protein UNC-89. Kristy J. Wilson, Hiroshi Qadota, Paul E. Mains, Guy M. Benian.

1128A
Analysis of immunogenic proteins in C. elegans (IV). A. Yamakawa, M. Ushiro, T. Tanaka, J. Fukumoto, A. Tamura.


Cell Biology: Cell division and chromosome dynamics
---
1129B
Analysis of Protease-Dead Separase: Development of a New Method to Study Dominant-Negative Transgenes. Joshua N. Bembenek.

1130C
Breaking It Down: Investigating Synaptonemal Complex Disassembly In C. elegans Using RNAi. Heather M. Brockway, Sarit Smolikove.

1131A
Cytosolic Aminopeptidase P (APP-1): a possible role in meiotic progression in Caenorhabditis elegans. Hannah Craig, Enrique Martinez-Perez, Darren Brooks, R. Elwyn Isaac.

1132B
Distinct Roles for the Kinesins BMK-1 and KLP-18 in Bipolar C. elegans Oocyte Meiotic Spindle Assembly. Valerie R. Osterberg, Meredith H. Price, Sara N. Christensen, Bruce A. Bowerman.

1133C
A member of the DOG-1 family is essential for normal cell division. George Chung, Ann Rose.

1134A
GSP-3 and GSP-4 are required for sperm meiotic chromosome segregation in C. elegans. Thais Godoy Cintra, Jui-Ching Wu, Aiza Go, Diana Chu.

1135B
FBF-mediated repression of the Cip/Kip cell cycle inhibitor CKI-2 promotes self-renewal of C. elegans germline stem cells. Irene Kalchhauser, Brian Farley, Sandra Pauli, Sean Ryder, Rafal Ciosk.

1136C
A screen for C. elegans oocyte meiotic spindle-defective mutants. Amy Connolly, John Yochem, Josh Lowry, Bruce Bowerman.

1137A
Characterization of the role of TLK-1 in kinetochore assembly in C. elegans. Jessica M. De Orbeta, Tokiko Furuta, Jill M. Schumacher.

1138B
Identifying the role of the Tousled-like kinase during the cell cycle. Jason R. Ford, Tokiko Furuta, Henry Adams, Jill M. Schumacher.

1139C
Asymmetric chromosome behavior during oocyte meiosis. Christina M. Glazier, Abby F. Dernburg.

1140A
A Polo-like kinase coordinates meiotic chromosome dynamics. Nicola C. Harper, Regina Rillo, Sara Jover-Gil, Needhi Bhalla, Abby F. Dernburg.

1141B
CRL2ZYG-11 and cyclin B degradation. Cassandra S. Heighington, Edward T. Kipreos.

1142C
SEP-1 and CED-3 regulate apoptosis and separation of sister chromatids in C. elegans. Pan-Young Jeong, Kumar Ashish, Pradeep M. Joshi, Joel H. Rothman.

1143A
Genetic and molecular investigation of the Fanconi Anemia pathway in C. elegans. Martin R. Jones, Ann M. Rose.

1144B
Local meiotic recombination rate variation in Caenorhabditis elegans. Taniya Kaur, Matthew Rockman.

1145C
ZTF-8 is required for DNA double-strand break repair and DNA damage response in the germline in coordination with the 9-1-1 DNA damage checkpoint. Hyun-Min Kim, Monica Colaiacovo.

1146A
Investigating the role of Aurora kinases during meiotic prophase in C. elegans. Y. Kim, A. Dernburg.

1147B
Determining Whether Autosomes and the X Chromosome have Distinct Genetic Requirements for Synapsis Checkpoint Activation in C. elegans. Piero Lamelza, Needhi Bhalla.

1148C
Spindle assembly checkpoint plays a role in DNA-damage-induced cell cycle arrest in C. elegans male germline. Kate Lawrence.

1149A
SPD-1-centralspindlin interaction is critical for maintaining the mechanical integrity of the central spindle against cortical pulling forces. K.-Y. Lee, M. Mishima.

1150B
βpat-3 integrin is involved in regulation of CKI-1. Shingo Kihira, Eunjeong Yu, Jessica Cunningham, Myeongwoo Lee.

1151C
Condensin-mediated chromosome architecture and crossover regulation. Teresa W. Lee, Barbara J. Meyer.

1152A
A Genetic Screen for Temperature-Sensitive, Embryonic Lethal Mutations in C. elegans. Josh Lowry, John Yochem, Amy Connolly, Bruce Bowerman.

1153B
him-5 functions in crossover control and DNA Damage Repair. Olivia McGovern, Kristie Jolliffe, Philip Meneely, Brent Derry, Judith Yanowitz.

1154C
Novel Protein SPE-7 is Required for Meiotic Chromosome Segregation and Fibrous Body Assembly. Kari Messina, Marc Presler, Diane C. Shakes.

1155A
Identification and characterization of new nuclear envelope proteins. Adela Morales-Martinez, Cristina Ayuso, Peter Askjaer.

1156B
Identification and functional analysis of histone demethylase activity in response to UV-induced DNA damage in Caenorhabditis elegans. Toshia Myers, Alexandra Avram, Lisa Sacini.

1157C
ZHP-3 is a ubiquitin E3 ligase with multiple roles in meiosis. Cate Randall Paschal, Christian Nelson, Needhi Bhalla.

1158A
Role of SPD-3 in Pairing and Synapsis of Meiotic Chromosomes. Regina Rillo, Abby Dernburg.

1159B
Quantitative analysis of chromosome dynamics during C. elegans meiosis. O. Rog, D. J. Wynne, A. F. Dernburg.

1160C
A novel gene promoting meiotic double-strand break formation in C. elegans. Simona Rosu, Anne Villeneuve.

1161A
Multiple developmental processes collaborate to regulate cdc-14 activity. Sarah Roy, Mako Saito.

1162B
Characterizing the meiotic role of protein phosphatase 4. Aya Sato, Fumio Motegi, Asako Sugimoto, Peter Carlton.

1163C
Insulin signalling functions as somatic DNA damage checkpoint during development. Michael Müller, Maria Ermolaeva, Peter Frommolt, Sebastian Greiss, Jennifer Schneider, Bjoern Schumacher.

1164A
Regulation of Meiotic Double-Strand Break Formation in C. elegans. Ericca Stamper, Abby Dernburg.

1165B
The C. elegans adenomatous polyposis coli tumor suppressor homolog APR-1 prevents chromosomal instability by regulating centrosome duplication. Attila Stetak, Erika Froehli-Hoier, Alex Hajnal.

1166C
PKC-3 aPKC phosphorylates LIN-5 NuMA to position the mitotic spindle during asymmetric division. Matilde Galli, Javier Muńoz, Vincent Portegijs, Mike Boxem, Albert Heck, Sander van den Heuvel.

1167A
Purification of intact germline nuclei: Towards a high-resolution spatiotemporal map of meiotic chromatin in C. elegans. Christina M. Whittle, Abby F. Dernburg.

1168B
CDC-48/p97 is required for meiotic chromosome segregation in C. elegans. Yohei Sasagawa, Teru Ogura, Kunitoshi Yamanaka.

1169C
A mutation in cya-1, which encodes the C. elegans Cyclin A homolog, specifically affects the division of the NSM neuroblast. Bo Yan, Barbara Conradt.

1170A
Illuminating the Formation and Regulation of Meiotic Crossovers with GFP:COSA-1. Karl Zawadzki, Rayka Yokoo, Anne Villeneuve.

1171B
HAL-2 promotes homologous pairing during C. elegans meiosis by antagonizing inhibitory effects of SC proteins. Weibin Zhang, A. J. MacQueen, N. Miley, M. Zastrow, A. M. Villeneuve.


Methods and Technology: Genetics
---
1172C
Mapping the PKD-2 localization defective mutant cil-2(my2). Deanna Michele De Vore, Juan Wang, Karla Knobel.

1173A
A new system for neuron-specific RNAi and its application to studying the function of essential genes in mature GABA neurons. Christopher Firnhaber, Marc Hammarlund.

1174B
MosSCI: Improved efficiency and new insertion sites. C. Frřkjćr-Jensen, MW Davis, M. Ailion, EM Jorgensen.

1175C
Development of three automated quantitative platforms for RNAi phenotyping. Andrew G. Fraser, Arun Ramani, Tungalag Chuluunbaatar, Hong Na.

1176A
MosSCI-biotic: neomycin resistance gene as a co-insertion marker for Mos1-mediated single-copy insertion (MosSCI). R. Giordano-Santini, D. Tu, R. Johnsen, D. Baillie, D. Dupuy.

1177B
Construction of Arrayed Toxicology Reporter Panels using Transcript-activated Fluorescent Reporters in Transgenic Nematodes. Miluka Gunaratna, John Manfredi, Christopher Hopkins.

1178C
A systematic screen for secreted proteins using a synthetic lethal approach. Samantha N. Hartin, Vi Leitenberger, Martin L. Hudson, Brian D. Ackley.

1179A
Low-copy integration of transgenes by TMP/UV methods. Eriko Kage-Nakadai, Hiroyuki Kobuna, Osamu Funatsu, Muneyoshi Ootori, Keiko Gengyo-Ando, Sawako Yoshina, Sayaka Hori, Shohei Mitani.

1180B
Simple and rapid single nucleotide polymorphism (SNP) mapping method in C. elegans without the use of restriction fragment length polymorphisms (RFLP) analysis - made it possible by real-time PCR and high-resolution melting curve analysis (HRM). Claudia Litterst, Luis Ugozzoli.

1181C
RAD mapping and genomic interval pulldown sequencing for rapid mutation identification. Sean O'Rourke, Doug Turnbull, Nick Stiffler, John Yochem, Amy Connelly, Josh Lowry, Michael Miller, Eric Johnson, Bruce Bowerman.

1182A
An altered method of feeding RNAi that knocks down multiple genes simultaneously in the nematode Caenorhabditis elegans. Yukari Omichi, Kenji Gouda, Yohei Matsunaga, Takashi Iwasaki, Tsuyoshi Kawano.

1183B
Incorporating Unnatural Amino Acids in C. elegans. Angela Parrish, Xingyu She, Zheng Xiang, Irene Coin, Andrew Dillin, Lei Wang.

1184C
A Three-pronged Method Employing Caenorhabditis elegans for Large Scale Screening of Potential Pharmacological Agents against Alzheimer's Disease. Shreesh Raj Sammi, Supinder Kaur, Pooja Jadiya, Aamir Nazir.

1185A
Update on the use of drug selection in nematodes. Jennifer I. Semple, Ben Lehner.

1186B
High throughput identification of mutations affecting aggregation using a novel Illumina sequencing analysis pipeline. Katherine P. Weber, Felix Baier, Subhajyoti De, Mario de Bono.


Methods and Technology: Imaging
---
1187C
Computer automated forward-genetic screening using sub-cellular fluorescent reporters. Matthew M. Crane, Peri T. Kurshan, George J. Wang, Jeffrey N. Stirman, Kang Shen, Hang Lu.

1188A
Automated sub-cellular imaging for drug screening in C. elegans. Francesca Farina, Betty Peignelin, Rémi Vernet, Clément Meiller, Frédéric Parmentier, Christian Néri.

1189B
High-resolution in vivo Ca2+ imaging of neuromuscular system in Caenorhabditis elegans. K. Gengyo-Ando, A. Usami, Y. Nagamura, Y. Yoshida, N. Matsuki, Y. Ikegaya, J. Nakai.

1190C
Endrov - an open source framework for image processing and analysis. Johan Henriksson, Jürgen Hench, Thomas R. Bürglin.

1191A
In vivo calcium imaging of the pharyngeal muscles in freely moving animals. I. Kotera, L. Su, S. Wong, K. Truong, H. Suzuki.

1192B
The Metal Biology of C. elegans. Gawain McColl, Simon James, Blaine Roberts, Martin de Jonge, Robert Cherny, Ashley Bush.

1193C
The GLOWorm repository and GLOWormJ: a system for distribution and analysis of multidimensional embryological images. William A. Mohler, Ion Moraru, Ariel B. Isaacson, Frank Morgan, Dan Vasilescu, Jeffrey Dutton, Glenn Duzy.

1194A
Investigation of Low-cost Fluorescence Microscopy. Andy Papp, Chris Aldrich, David Perry.

1195B
Characterizing development by lineage tracing. Julia L. Richards, Joshua Burdick, Travis Walton, Elicia Preston, John Murray.

1196C
Subcellular in vivo time-lapse imaging and optical manipulation of C. elegans in standard multiwell plates. Christopher Rohde, Mehmet Fatih Yanik.

1197A
Cell lineaging for single cell, high throughput analysis. Anthony Santella, Zhirong Bao.

1198B
Development of a High Throughput Infrared Detection Method for Toxicity and Pharmacological Testing in C. elegans. Dario R. Bichara, Sergio H. Simonetta.

1199C
Addition of the genetically encoded, red-shifted Ca2+ sensor RCaMP to the C. elegans optogenetic toolbox. Sebastian Wabnig, Jasper Akerboom, Jeffrey Stirman, Hang Lu, Loren Looger, Alexander Gottschalk.

1200A
Automated alignment of TEM image stacks to simplify anatomical reconstruction. Greg Hood, Arthur Wetzel, Meng Xu, David Hall, Scott Emmons.

1201B
Rapid and accurate phenotyping of embryonic lethality via image analysis of C. elegans developmental stages from high-throughput image data. Amelia G. White, Huey-Ling Kao, Patricia G. Cipriani, Eliana Munarriz, Annalise Paaby, Davi Geiger, Eduardo Sontag, Kristin C. Gunsalus, Fabio Piano.


Methods and Technology: Gene expression profiling and ChIP
---
1202C
Cell type-specific profiling of the transcriptome in C. elegans. Meenakshi K. Doma, Igor Antoshechkin, Paul Sternberg.

1203A
A method for purifying nuclei from different tissues. Florian A. Steiner, James R. Priess, Steven Henikoff.

1204B
An assessment of the quality of histone-modification antibodies. Thea Egelhofer, Aki Minoda, Sarit Klugman, Kyungjoon Lee, Paulina Kolasinska-Zwierz, Julie Ahringer Lab, Mitzi Kuroda Lab, Sarah Elgin Lab, Mark Perry Lab, Vincenzo Pirrotta Lab, Bing Ren Lab, Susan Strome, Peter Park Lab, Gary Karpen Lab, R. David Hawkins, Jason Lieb.


Methods and Technology: Proteomics and metabolomics
---
1205C
Revising the DAF-12 ligand biosynthetic pathway in C. elegans: A comprehensive NMR-based approach. Neelanjan Bose, Parag Mahanti, Axel Bethke, Joshua Judkins, Joshua Wollam, Adam Antebi, Patrick Hu, Frank Schroeder.

1206A
Optimising metabolic profiling approaches towards an improved understanding of metabolism during development and aging in C.elegans. Florian M. Geier, Gabriel Valbuena, Sarah K. Davies, Jake G. Bundy, Armand M. Leroi.

1207B
Connecting genotype with metabotype in C. elegans: 2D-NMR based metabolomics uncovers small molecules dependent on peroxisomal beta-oxidation via DAF-22. Yevgeniy Izrayelit, Steven Robinette, Arthur Edison, Frank Schroeder.

1208C
Second generation synthesis and bioactivity of novel endogenous ligands of the nuclear hormone receptor DAF-12. Joshua C. Judkins, Neelanjan Bose, Parag Mahanti, Jacob Hoffman, Frank Schroeder.

1209A
SILAN - an Effective Method for Quantitative Proteomics in C. elegans . M. Larance, A. Bailly, A. Gartner, A. I. Lamond.

1210B
Measuring Protein Abundance across Developmental Stages of C. elegans via Molecular Weight Fractionation and High-Resolution Mass Spectrometry. Gennifer E. Merrihew, Giana Angelo, Michael J. MacCoss.

1211C
Searching for DAF-16 partners. A. Nazari Daftari, Y. Wang, R. Baumeister.

1212A
Comprehensive analysis of C. elegans' ascarosides, a modular library of small molecule signals. Stephan von Reuss, Jagan Srinivasan, Neelanjan Bose, Paul Sternberg, Frank Schroeder.

1213B
Proteomic profiling dietary restriction pathways with 13C-labeled Caenorhabditis elegans. Y. Yuan, C. Kadiyala, T. Ching, S. Saha, H. Xu, K. Kramp, R. Ewing, A. Hsu, M. Miyagi, Z. Feng.


Methods and Technology: Databases and programs
---
1214C
A Website to Annotate SNP Data. John Rummage, Kenneth G. Miller, Robert J. Barstead.

1215A
The Virtual Worm: A Three-Dimensional Model of the Anatomy of Caenorhabditis elegans at Cellular Resolution. Christian A. Grove, Paul W. Sternberg.

1216B
Hey, you, get ON our cloud: easy private installations of WormBase through cloud computing. Todd W. Harris.

1217C
New and Improved: WormImage 2.0 and WormAtlas Mobile. L. A. Herndon, Z. F. Altun, C. A. Wolkow, K. Fisher, C. Crocker, T. Stephney, M. Xu, D. H. Hall.

1218A
Synthesizing Biological Theories. Cory Plock, Andy Roberts, Hillel Kugler.

1219B
The Biogemix knowledge base project: cross-species and network-based data integration for Huntington's disease research. François-Xavier Lejeune, Lilia Mesrob, Frederic Parmentier, Cédric Bicep, Jean-Philippe Vert, Christian Neri.

1220C
OrthoList, a compendium of C. elegans genes with human orthologs. Daniel Shaye, Iva Greenwald.


Methods and Technology: Microfluidics and neural methods
---
1221A
Exploiting Simple Geometries in Microfluidic Chips to Orient C. elegans for Rapid Visual Screens. Ivan Cáceres, Nick Valmas, Massimo Hilliard, Hang Lu.

1222B
Effects of electrical stimulation on the ASH chemosensory neuron in Caenorhabditis elegans. Trushal V. Chokshi, Nikos Chronis.

1223C
Red-shifted optical excitation with a Chlamydomonas / Volvox hybrid Channelrhodopsin. Karen Erbguth, Matthias Prigge, Franziska Schneider, Jeffrey N. Stirman, Hang Lu, Peter Hegemann, Alexander Gottschalk.

1224A
Large-scale in vivo laser neurosurgery for discovery of small-molecule enhancers of regeneration. Cody L. Gilleland, Christopher B. Rohde, Chrystanthi Samara, Stephanie Norton, Stephen J. Haggarty, Mehmet Fatih Yanik.

1225B
Microfabricated device for acute drug treatment in the early C. elegans embryos. Alex Groisman, Ana Carvalho, Sara Olson, Edgar Gutierrez, Kelly Zhang, Lisa Noble, Arshad Desai, Karen Oegema.

1226C
Microfluidic vacuum actuated trap for gentle immobilization and high-resolution microscopy of C. elegans across developmental stages. Edgar Gutierrez, Rebecca Green, Karen Oegema, Alex Groisman.

1227A
Design of a C. elegans sorting microchip based on structure dependent swimming behavior. Bicheng Han, Daeyeon Kim, Jennifer H. Shin.

1228B
A multi-worm optogenetic system. Yuya Kawazoe, Hiromu Yawo, Kotaro Kimura.

1229C
A simple microfluidic device for long-term in vivo imaging of mitochondrial dynamics in C. elegans. Sudip Mondal, Sandhya Koushika.

1230A
A 96-well plated based liquid phase C. elegans behavioral quantification system. Maohua Zheng, Olga Gorelenkova, Zhaoyang Feng.


Methods and Technology: Other nematodes
---
1231B
Nicotine exposure response in Caenorhabditis elegans: a model for evaluating smoking cessation agents. Danny Tudor, Aaron Behm, David Montgomerie, Chad Ahia, Patrick Yasukawa, Supakit Wongwiwatthananukit, Anthony Otsuka, Leng Chee Chang.

1232C
Identification of a New Ascaroside, Female Attracting Pheromone in Panagrellus redivivus. Tatsuji Chuman, Ramadan Ajredini, Hans Alborn, Andrea Choe, Stephan von Reuss, Fatma Kaplan, Frank C. Schroeder, Paul W. Sternberg, Arthur S. Edison.

1233A
The Characterization of Enhanced Environmental RNAi Mutants in Pristionchus pacificus. Jessica Cinkornpumin, Jeffrey Shibata, Maryn Cook, Neomal Muthumala, Ray Hong.

1234B
Mass Spectrometric Imaging and Behavioral Assays of Pristionchus pacificus. Chaevien S. Clendinen, Ramadan Ajredini, Robert Menger, Ghulam Khan, Richard Yost, Arthur S. Edison.

1235C
Classification and population analyses of soil nematodes by using an improved barcode-sequencing method. Toshihiko Eki, Erika Miyazaki, Shoko Yoshimitsu, Hisashi Morise.

1236A
Update: Progress made toward clinical use of the Bacillus thuringiensis (Bt) Cry5B protein as an anthelmintic. Brian L. Ellis, Yan Hu, Ying Liu, Raffi Aroian.

1237B
Crystal structure and function of novel nematicide Bacillus thurigiensis Cry5B. Hui Fan, Yan Hu, Alan Kelleher, Raffi Aroian, Partho Ghosh.

1238C
Exploring the Biological Targets of a Novel Class of Stilbenoid Compounds with Anthelmintic Activity. J. A. Miskowski, O. Awoyinka, M. Gross, A. Monte.

1239A
A can of worms - challenges and strategies for next generation nematode genomics. Michael Paulini.

1240B
Unveiling the unique biology of nematodes living in a cold methane seep on the ocean floor and their symbiosis with chemosynthetic bacteria. Amir Sapir, Adler R. Dillman, Manuel Mundo-Ocampo, James G. Baldwin, Victoria J. Orphan, Paul W. Sternberg.


Academic Teaching
---
1241C
Characterizing wild nematode isolates in an undergraduate research lab. Robin L. Hill.

1242A
Application of medium-throughput mutagenesis techniques in the molecular laboratory environment. Jonathan E. Karpel, J. Cole Rasch.

1243B
A writing intensive Caenorhabditis elegans laboratory exercise for undergraduates examining oxidative stress and antioxidants. Taylor Bell, Justine Betzu, Loreal Brown, Marissa Fontana, Christopher Frymoyer, Christina Hamilton, Amy Hartl, Lauren King, Amanda March, Caitlyn McLarnon, Lauren Meeley, Kathleen Murley, Katherine Murphy, Matthew Pall, Rabiul Ryan, Erin Slaunwhite, Rebecca E. Kohn.

1244C
Problem-solving and project-assisted learning of genetics, molecular biology and biological pathways in the study of Protein Kinase C in C.elegans. Marianne Land.

1245A
Using Nematodes for Discovery Based Learning. Candace C. LaRue, Pamela Padilla.

1246B
Student Projects using C. elegans to Investigate Animal Physiology. Tim H. Lindblom.

1247C
Using C. elegans as a model to assay bacterial pathogenesis in an undergraduate research survey course. Edith M. Myers, June H. Middleton.

1248A
Combining old fashioned gene mapping and new fangled genetic analysis in an upperlevel Genetics course. Maureen A. Peters, Katherine Cullen.

1249B
Using C. elegans to teach transmission genetics in a large introductory biology lab. Penny L. Sadler, Diane C. Shakes.

1250C
Preparing Undergraduates to Work at the Intersection of Biology and Mathematics. Timothy D. Walston, Barbara Kramer, Jason Miller.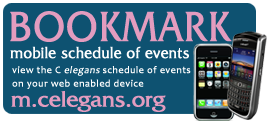 Follow the meeting using hashtag: #worm11

Contact Meeting Management

Add Meeting to your Calendar